My little princess castle

United States
October 2, 2008 12:42pm CST
I just wanted to share one of my treasured items with all mylot friends I updated my avator to one that I am proud to share. My little girl 6 years old artwork. She been in class for 10 months and this is one of her artwork. She loves purple, so she had to do a purple tree. According to her this is her new house. This a lot of information for an autistic child who has communication issues. I learned a lot from looking at her pictures. Her classes are expensive, $25 per hour. But I find it really helpful with taking care of her bad behaviors and her communication skills. She would only talk about her artwork. If I had to put a price tag on this piece, I say it cost me $700.00 USD. Yep, that is how much it cost for 7 months of fees, plus fuel. But this is the best investment I ever made. I am always excited to see what her next completed project will be. After years of fustration, finally my daughter is becoming a happy child again.
4 responses

• United States
2 Oct 08
That picture is worth the money! You may be paying for a future artist! She seems to be a natural to be only 6 years old. As for the purple tree, that is expression! All kids paint things as they view them. They love vivid colors. They have a wonderful imagination, too. So glad that she's loving the art and it is making her more open. Miracles do happen!

• United States
2 Oct 08
Hi Barb. Yes miracles do happen and I am thankful that the wand was waived upon my daughter to give her this opportunity to do what she loves. I had to take on a second job to pay for the art classes, and the rest my sister helps out. I been blessed with two wonderful people in my life and now the a third - you. Thanks for your response.

• United States
2 Oct 08
That flower picture is pretty. I love flowers! Seems she has a vast range of things to paint. That is very encouraging. And thanks for your kind words. I'm here as your friend, and I love children! We don't have a grandchild with anything wrong such as autism, but we do have a 2 month old grandson about to undergo an operation for a cleft lip on October 20th. He is precious to all of us and has stolen our heart.



• United States
3 Oct 08
'That is so wonderful that they have an art class that your daughter can join. She is great at art! I agree that it is worth every penny you spent on the classes. On another note, I was just at a craft show and there was a local artist there. She was selling her painting and also had a table set up with paintings her neice did. They were very cute and she told me that she sold more for her neice than she did of her own. I thought it was a wonderful idea to keep her neice interested in art.

• United States
4 Oct 08
Hi sunshine That is great. I am attending a arts and craft event this weekend too. And you guessed it right, I am bringing my daughter too. I don't think I can ever put my daughters artwork for sale, because I want to hang on to all of them. Maybe later when she has been doing this class for two years, I might consider..... Yes, I am one of those mothers that collect and keep everything.

• United States
2 Oct 08
Wow that is such an amazing story that you shared with us. It sounds like these classes are exactly what she needs and you can not put a price on that at all. It is so good to hear in your post how happy you are right now and how proud you are. It sounds like this is a great investment for not only her but for you as well. I am so happy for you both.

• United States
4 Oct 08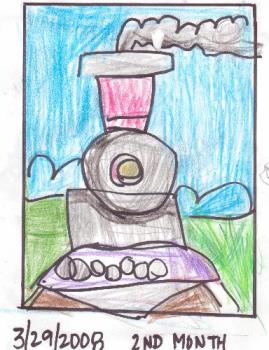 Hi yes indeed it is a happy time for me. I been struggling for a long time and finally I am started to feel happy. The classes are great, she loves going to classes and then I can't wait for the class to be over to see what new drawings she did. I just attached another one for you. Here is the train that I tried to send to you last time. I wish I discovered this class sooner. Finally something is working. She loves talking about her artwork (of course using whatever limited words she has learned) Any progress is good progress. I am happy that you are happy for me..:):):)