What does this picture make you think of?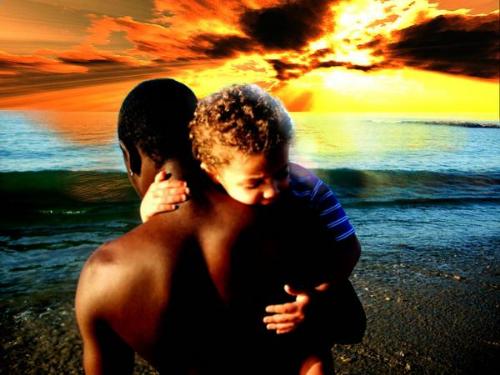 United States
7 responses

• Canada
3 Oct 08
I want to agree with you but I just can't. Why do I have to be different? I just don't know. I think of troubled waters. The sky is so red and whenever I have seen a sky so red out here it has brought about some nasty winds. The little boy appears to be hanging on for dear life like as if his daddy is all he has, and when I looked real close although some may say the boy is sleeping I think his little eyes look puffy maybe crying? I then wonder what the daddy is thinking, is he depressed or just there as a peaceful moment? Just my thoughts.

• United States
3 Oct 08
That little boy happens to be my grandson and maybe that is why I see what I see. I find it to be an amazing picture, hubby almost cried when he had seen it said it appeared to be survival after a disaster.

• Canada
3 Oct 08
It just goes to show how we all think and see something different even from just a picture of someone we know nothing about. AS long as I have not offended you or your family is what's important to me right now. If I knew what you and hubby knew I would no doubt see it differently I am sure. Thank You

• United States
3 Oct 08
When I look at this picture I think of trials that the two have gone through together. The boy looks to me to be interracial, so I would say maybe a storm the father faced over the right to have visitation of his child. Maybe the mother's family forbade him from seeing the child, and the mother, hopeless against her family's wealth, could only but look at the father and cry. I would say that he's looking back at all that has happened and is holding on to his son, his son looking towards the future. Either that, or the father is looking towards trials he will face. The picture has dark and yet light colors. I think the light colors could represent breakthroughs in his struggle for visitation with his child, either that or it could represent peace for the family.

• United States
3 Oct 08
All I can say is Wow! So detailed you are thank you for responding

• United States
3 Oct 08
Sometimes I just get carried away with explaining. Lol, I appreciate the BR!


• Philippines
3 Oct 08
that picture shows a human chain which means that every race, every nation is important in this world and in each country's hands are the life of our earth. whatever a country does, it affects each person, animal, and other living things in this world because we are "all connected to each other", according to a song. if we take care of our relationship and live harmoniously with others, we will prosper and be at peace, if we take care of nature, the earth will give us bountiful harvests of natural resources. whatever our race will be, we are all one, we are all human, with hearts and minds and we have the freedom to think and do what is right.

• United States
3 Oct 08
Another Wow! you all are just blowing me away with these answers

• United States
3 Oct 08
It makes me think about my life as a mother. You see the storm coming in, yet the child is fast asleep or holding on to you for dear life. That's when you know you have to protect them, because you're all they have.

• United States
3 Oct 08
The life of being a mom and how we always protect our children

• Philippines
5 Oct 08
Hi grammasnook! I love the picture! Every time I see similar pictures, it never fails to tug at my heartstrings. The hues that paint the sky may not really be as serene as the color of the sunset on a calm and peaceful late afternoon. Even then, for me, the picture depicts the hopes we have for a better tomorrow. It also shows the security we feel despite troubles when we are in the midst of our love ones.

• India
3 Oct 08
Well, to me the meaning of this picture is different. May be I'm wrong. But I think its about shoulding a responsibility in the face of trouble. The nature looks like roaring to destroy whatever it finds. The little boy symbolizes a responsibility which can't be ignored. The man seems to me well aware about the danger and responsibility. He seems to be thoughtful and standing ready to face the troubles while taking care of the boy on his shoulder. My observation is just opposite of peace and hope. In my view it depicts trouble and helplessness under the shield of a strong desire to survive.