Johnny Depp Signs On To Bring Back Captain Jack In 'Pirates 4'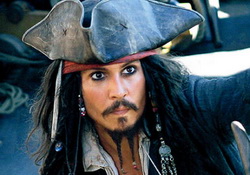 Thailand
October 3, 2008 4:02am CST
Depp has signed on for a fourth "Pirates of the Caribbean" film, returning to the franchise that has earned a combined $2.6 billion at the box office. Although he previously hinted that he'd be open to setting sail again in his most iconic role, it is largely believed that it will be a solo journey. Wow! I can't wait to see it. Depp is the one of my favorite actors. Every role he played is absolutely stunning. He simply rocks!
4 responses

• Canada
4 Oct 08
Depp is a fantastic actor. Although I have seen him in 1 movie that was a horrible movie which was very surprising. I can't believe they are making a Pirates 4...I can't imagine how that's going to go really. Almost ALL of his movies are great. Just out of curiousity...have you seen his movie called "From Hell"? Its about Jack The Ripper and it's a fantastic movie, so it's one movie I suggest watching if you're a big fan of Depp :) (he's also extremely yummy and sexy) LOL

• Thailand
5 Oct 08
Yep, it's good one. I'm make misunderstood when saw this movie in first time. I think the director is Tim Burton, but in fact it is Allen Hughes.


• Thailand
3 Oct 08
Surely true. It's been annouced on Disney TV show. But they didn't say about the plot and other charactors.

• United States
3 Oct 08
I still haven't watched the third one yet, I haven't had time to I want to watch it I better get it watched before the 4th one comes out. I saw the second one at the drive inn theater it was really good. Great to hear Johnny Depp will be in it again I love him as Captain Jack.

• Philippines
3 Oct 08
great! good news for us who loves Depp.. same here, i cant wait to see it also. no doubt about it, Depp is a great actor. and he is sooooooooo hoooot! hehe, cheers!