Entire Palin Family Now Giving Autographs!

United States
October 4, 2008 1:32pm CST
I turned on the news last night and there they were! Sarah from the Frozen North, her husband, What's His Name, and their 14 year old daughter were all bobbing around in a large crowd signing little slips of paper. A somewhat cyncical Philadelphia newscaster announced that apparently the entire Palin clan is now giving autographs. Frankly, I think these people make the Spears family look classy. Does anybody else find this as distasteful and downright tacky as I do? Does anyone think it's appropriate behavior for this woman to take a 14 year old on the campaign trail and allow the kid to sign autographs?
11 responses

• United States
4 Oct 08
If people are giving autographs, it is generally because there are people chasing them around asking for them - they're not volunteering them on their own. If there's someone out there who wants their autograph, I see nothing wrong with them giving it.

• United States
5 Oct 08
I think anyone who requests a 14 year old candidate's child for any autograph is creepy. But that doesn't mean allowing your child to give an autograph is okay. And what is a 14 year old doing campaiging in the first place? Shouldn't she be in school? Having the candidates family on the stage at the time of a nomination or coming to congratulate the candidate after a debate is one thing but allowing a 14 year old to actively campaign is another and U just don't think it is appropriate. So far none of the other candidates appear to be usoing their children or grandchildren this way and I hope they do not follow suit.

• United States
5 Oct 08
To some extent, every member of the family becomes a celebrity when a parent runs for such an important public office, and while I don't really see the thing of getting autographs, I guess some do it to have something to sell - as a collector's item.

• United States
4 Oct 08
This is just very, very strange. They're not celebrities. They're just one annoying, ignorant family. It just makes them look terrible. She obviously doesn't care much about the election, she's in it more for the fame she's getting and for some odd reason the stupid people out there are just eating it up.

• United States
4 Oct 08
I guess it's that 15 minutes of fame thing that Andy Warhol said we'd all have. Boy, I'll bet he's laughing in his grave over this one.

• United States
4 Oct 08
The more I hear the more I picture the Beverly Hillbillies go to Washington. I can hear the banjo playing now, and if Sarah shows up carrying a shotgun to her next rally I think I'll start calling her Granny.

• United States
4 Oct 08
That's exactly the mental image I have of them - The Beverly Hillbillies. Can't you just see the entire clan trotting into Georgetown for a Sunday brunch? LOL

• United States
4 Oct 08
LMAO Shooting birds along the way since there aren't any moose in the East. Admiring all the cement ponds and crazy city folk. Oh geeze who would have known the Republican party would go back to the days of Lincoln with it's "folkiness" instead of it's "Warren Buffets" of the world.

• United States
25 Oct 08
You did know that Warren Buffet is a Democrat, right? No matter, you get the best response anyway for giving me some fun here.


• Sheboygan, Wisconsin
5 Oct 08
It depends, are they offereing their autographs or are people asking them. If people are asking them, then I don't find it creepy at all. If they are asking people if they want their autographs, yeah that's kind of creepy. I remember the first time people asked me for my autograph, I wasn't sure how to take it, but then again, I wasn't going to say no either.

• United States
5 Oct 08
I think the people who would ask a celebrity's child for an autograph are a little creepy also. Still, most of our presidents and presidential candidates have until now, done such a good job of protecting their children from the limelight that no one would dare to ask the kid to sign autographs. Now we have parents standing right there and encouraging it.

• Sheboygan, Wisconsin
6 Oct 08
Not really true. Yes, presidents have kept their kids out of the political limelight, but a lot of the kids of presidents have become minor celebrities. Bill and Hillary Clinton (much to their credit) made it very clear that Chelsea was "off limits" to the press, but she was often sought out by "fans" when she was out and about. Press=participation. Anyone who gets their name in the paper (good or bad) becomes a bit of a celebrity. We also grant celebrity status to anyone connected to celebrity. Did you know that there are fans of roadies?


• United States
4 Oct 08
Might be hard. It looked like they were all working different parts of the crowd like real pros.

• United States
5 Oct 08
Oh, get over it. EVERYONE gives autographs. Obama's got his picture walking on the beach in People, right alongside every other tacky celebrity. You don't think HE gives autographs, or his wife? Personally I think it's classier than being snobby and ignoring people's requests for autographs. And their names are Sarah, Todd, and Bristol. At least show some respect.

• United States
5 Oct 08
I have no respect whatsoever for someone who would use their child this way. Allowing a picture to be published in a magazine is a far cry from putting a 14 year old on the campaign trail signing autographs. If Madonna any other Hollywood movie star had their nonp-performing child out there signing autographs, there would be a hue and cry about unfit parenting and this is no different.


• Sheboygan, Wisconsin
6 Oct 08
Off limits to the press... like Amy Carter, Chelsea Clinton and to a more limited extent, the Bush twins were kept from the press, but each of these kids of presidents became minor celebrities, but people didn't complain about them.


• United States
5 Oct 08
What exactly is wrong with this? I honestly can't see what is bothering you so much. The Obama's have been signing autographs for a long time now and I haven't seen you complain about them. Is this only an issue because you prefer to see crowds chasing Obama? Does he have the monopoly on popularity now?

• United States
5 Oct 08
Obama's children are not signing autographs and neither are the children of any other candidate. If some moviestar had their children do this, they would probably be declatred an unfit parent.

• United States
5 Oct 08
That's a load of crap. How does it make someone and unfit parent to allow their child to sign an autograph? Does it somehow injure a person when they sign an autograph? Do you believe they lose part of their soul when an autograph is signed? Granted some used to believe that about photos, but never about autographs. Just let me know what damage it does to sign an autograph. I really want to know.

• United States
6 Oct 08
It gives a warped sense of values. Children need to know that respect is something you earn and people who have earned nothing should not go around signing autogrpahs as if they were celebrities. If this wer Madonna putting her daughter on the street signing autographs, you would be screaming about how unfit she was as a mother. But it's not Madonna. She would never be this tacky.


• United States
5 Oct 08
I find the whole parading of the family a little hard to take. I also had misgivings when after the debate the other night all her kids appeared on stage ........ shouldn't the six year old and baby be in bed by then. In the space of two minutes the poor baby had been handed off from teenage daughter (why is she always holding it?) to mom and then the little six year old had it. All seems wierd do this family go to school in Alaska? It's one thing to have partners appear in support but wheeling out the whole family is kinda like a freak show.

• United States
5 Oct 08
"I also had misgivings when after the debate the other night all her kids appeared on stage ........ shouldn't the six year old and baby be in bed by then." You didn't have any problems with Obama's children being on stage. Do you have children? Have you NEVER allowed your children to stay up late for something special?

• United States
6 Oct 08
Taskr, we're not discussing anyone's children being allowed to stay up late for something special, we're discussing children being paraded on stage signing autographs; that's a pretty major difference. Rose, your implication that any woman who isn't a fan of Sarah Palin is black, is jealous of her and doesn't have a "man of her own" is getting very old and it's flaming, totally offensive and against the myLot TOS. There are lots of white people, including white women, who have not problem supporting Obama totally and there are just as many white women who have lots of problems with Sarah Palin. If you don't like that and can't accept it please keep it to yourself because your racial remarks will be reported if they haven't already been. Annie

• United States
13 Oct 08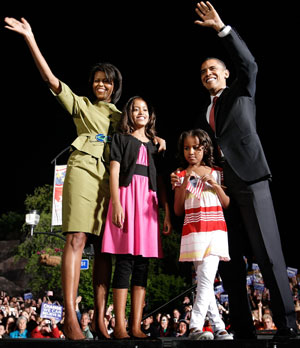 I don't know about it being tacky or anything for them to be giving autographs, I guess if ppl want them and they don't mind giving them then more power to them. As for taking a 14 year old on the campaign trail, I've seen more than one political appearance of Obama, his wife and their two kids who are both under 14. I don't personally think any of the kids should be out there...of any of the candidates unless they are over 18. Kids just don't understand politics and for the most part doesn't realize what is going on. [b]~~IN SEARCH OF PEACE WITHIN~~ **AGAINST THE STORMS, I WILL STAND STRONG** [/b]

• United States
4 Oct 08
I wouldn't vote for her for Vice President, but the more I see her, the more I realize she is just who she is...does she make decisions different from what I would? Yes, but she knows her family best. She knows what they like and dislike and she has included them in every other aspect of her career so I suppose this experience will not be any different. I am still waiting to see what happens with the whole firing debacle - that should be interesting to see what the eventual outcome of that mess will be. I am sure that Sarah Palin will not disappear from the political scene as fast as Dan Quale did but I am sure it will be similar...