Do you know Charice Pempengco??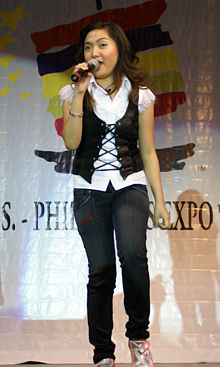 Philippines
October 4, 2008 11:18pm CST
She is a good singer.. Charice is a Filipina singer,who rose to popularity through youtube.. She has performed and gained standing ovations in South Korea, United States of America, The United Kingdom,Italy, The Netherlands, and Canada.. She was personally invited by Andrea Bocelli to be one of his guests on his birthday concert.. She also twice guested on the Oprah Winfrey Show.. And the latest, she met Celine Dion to performed a duet.. Isn't that great?? Do you know Charice Pempengco?? What can you say about her??
3 responses

• Philippines
30 Nov 08
I know Charice since in Little Big Star. It was a show were kids and early teens compete through singing. She is often compared to her idol Sarah Geronimo.

• Philippines
6 Oct 08
she is the guest of boy & kris this morning and i have to say she is really a great singer and she is getting popular and known worldwide..its a good thing that she is trying to reinvent herself and singing many different songs..to show her versatility and she can play the guitar too..and the one that she sang this morning was a good song..she said that it was composed for her by swedish composer...i think she mentioned that she already guested in Oprah Show..three times already..only we have not seen it yet because it was not yet aired...so lets just watch it in youtube when it gets uploaded...and mind you Oprah is her manager..that is a very big thing...and David Foster is her agent...talk about big names..she is in the right track so lets just pray for her success because her success is also our success as filipinos.

• Philippines
6 Oct 08
I am from Philippines so I know who Charice is. She is my bet when she joined the singing contest in TV entitled Little Big Star but since the contest is popularity vote, she did not win and also, she have lots of flat notes during the finals. However, watching her perform internationally, I can say she changed a lot from an amateur contestant to a professional singer and I do hope Charice's career will be successful internationally since she was not given proper recognition here.