update of the matches played on saturday.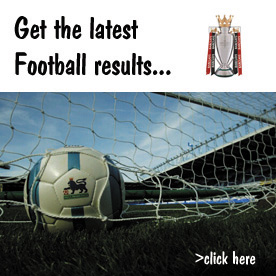 India
October 4, 2008 11:30pm CST
1. suderland vs arsenal (1-1)(leadbitter(84)) (fabregas (90+)) 2. westbrom vs fulham (1-0)(bednar 61) 3. wigan vs middlesbrough(0-1) (adilare 89) 4. blackburn vs man utd (0-2) (brown 34 rooney 61) 5. lazio vs lecce (1-1) 6. inter vs bologna (2-1) (ibrahimovic 24,adrino 50) (moras 52) 7. villarreal vs real betis (2-1) (rodriguez 68, lorente 70) (damia 20) there were 11 yellow cards in this match 5 from villaral and 6 from real betis 8. barcelona vs atletico madrid (6-1) (marques 4,eto (6,18),messi 8,gudjohnsen 28 henry 73)(rodriguez 13) this was great performance from barcelona. they scored 5 goals in first half.
4 responses

• India
5 Oct 08
I thought the Arsenal Sunderland result was a big upset. It could of course have been even worse for Arsenal, had Fabregas not bundled the last effective shot of the match into the net. It was a great result for West Brom with Bednar looking very promising. Boro managed to steal one from Wigan despite being under the cosh for most of the match. Man U emerged much the stronger of the two despite midfield problems. Blackburn were simply disappointing to say the least. And yes that is the third consecutive match in which Rooney scores. Of the spanish results, the 6-1 thumping of Athletico Madrid at the hands of Barcelona is startling to say the least. The form books were showing things the other way around. It looks like Pep Guardiola has managed to turn things around there. Cheers! Ram

• Singapore
5 Oct 08
I thought Sunderland will win though, Arsenal has been unable to penetrate sunderland's defense for long period of time. And that wonder strike by leadbitter, seriously who would have thought that fabergas would equalise at the last min. Man Utd has a very deep squad and this goes to show that they are not hit by injuries. Tonight's match Villa vs Chelsea will prove that Chelsea does not have a deep squad like Man Utd's.

• India
6 Oct 08
Unfortunately, Chelsea proved that they do have a such a deep squad. In fact, their first half showing was simply a mauling for Aston Villa. It is wonder that they scored only 2 goals in the end. Chelsea are looking dangerous this season and delightfully Liverpool have learnt to win consistently in the League as well. This season might not be a two horse race for the title. Cheers! Ram

• Indonesia
5 Oct 08
congratulation to barcelona, nice results, and nice performance too from manchester united squad last night, have a nice day

• Romania
6 Oct 08
Thanks for the update, I was away for the week-end and haven't checked up on the results... Let's see... 1. A bit of a surprising result, with both goals to the end of the game... I'm glad for Roy Keane. 4. A good result for Man United. I'll visit the site and read about how the match went on. 8. Barcelona won 6-1???

It's really unexpected for me considering the bad season start for Barcelona and the good results Atletico had in the Champions League. That's great news for me! As for the rest of the games I'm not that interested.