what is your favorite cake flavor?

Philippines
October 5, 2008 8:50am CST
mine it would be cheese, carrot and chocolate. i find this three irresistible despite the promise i made to myself to avoid eating sweets too much. how about you? i already lessen and stopped some of my other favorites like soda and chocolates. but when it comes to cake and specially this flavors? men, i really can't say no to these.
5 responses

• Philippines
6 Oct 08
My goodness! I can taste my favorite cake right now.

For more than 15 years, I've always loved the taste of Chocolate Mousse. Before, I wanted a specific bakeshop (Goldilocks bakeshop) but now, as long as it's chocolate mousse. I've attached a pic of the cake (courtesy of goldilocks.com Philippines). So delicious and the taste of the chocolate and the mousse stays even after you eat. I do eat other cakes though but I'd choose Mousse in a heartbeat. Take care!


• Philippines
6 Oct 08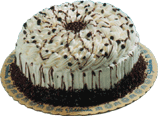 My bad. I wasn't able to attach the pic on my response. Here is it. Can't wait to eat a slice... or two...



• Philippines
5 Oct 08
Mine would be chocolate cake whether with frosting or not, cookie monster chocolate cake, chocolate marble cake, moist chocolate cake, black forest. Anything chocolatey. Second would be purple yam cake.