Just Added to my Charity Section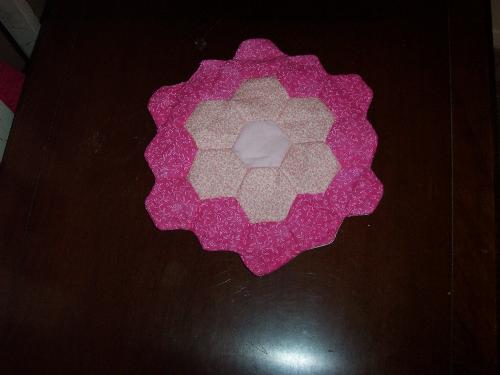 United States
October 6, 2008 5:22pm CST
I just added this lovely pink flower centerpiece mat to the Charity Section of my shop. It's pink in honor of Brea*t Cancer Awareness month. 25% of the purchase price goes to charity. Check it out and let me know what you think. I actually love working with hexagons even if it does mean handsewing. For this I even handsewed the backing and batting to the flower.
1 response

• United States
8 Oct 08
Very pretty creation and a very worthy cause. There are many threads in the promotion forum where you could promote this. Or you could just start your own thread and have others comment and/or add their items for charity too! You never know, your beautiful centerpiece might end up going to a new home! Well done on both the centerpiece and the giving to the cause to eliminate Bre ast Cancer!

• United States
8 Oct 08
I've done some promoting there with this. I do like the hexagons, I found some more patterns to play with. I can sit and watch tv while I sew.