what household chore do you most hate doing?

Philippines
October 6, 2008 10:36pm CST
it's doing the laundry, for me. so the hubby washes our clothes and i do the rest of the chores while he's at it. make me wash dishes all day, i can stand it. but just staring at the pile of dirty clothes in the laundry bin tires me. i am guessing everybody secretly or openly hates doing one household chore, so what is it for you?

10 responses


• Philippines
7 Oct 08
as for me, i can stand ironing clothes as long as i'm listening to music


• Philippines
8 Oct 08
oh. i see. fortunately we live in a city where it's cold all the time so the heat from the iron does not bother me at all



• United States
7 Oct 08
I'm not a fan of folding laundry. I have no issues with taking it to the washing machine or bringing it to the dryer after it's finished. I just really hate to fold it and put it away. And, I also hate hand washing dishes. I love having access to a dish washer at school and at home. I love being able to just rinse the dishes and then put them in the dish washer so I can turn it on and walk away and come back to nice clean dishes that I only need to put away. It's so much easier and much more pleasant than hand washing dishes.

• Philippines
7 Oct 08
i do not exactly detest folding laundry, but around the house, somebody's got to do it. because when i leave my husband to fold the clothes, after he's finished with the chore, he will put the underwear in the shirt cabinet, and vice versa. i will often find his socks in our daughter's cabinet, so i
never
allow him to do it unless i have no choice

i am OC about clothes organization, so it drives me crazy seeing clothes out of place


• Philippines
10 Oct 08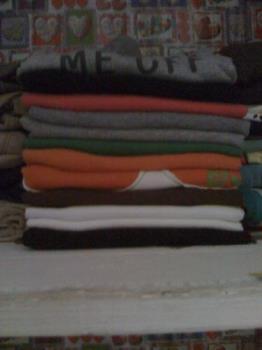 Folding up clean clothes is something that I would never allow anyone to do. I am very OC when it comes to this. A department store folded clothes would be ashamed when they see how our clothes are folded. I am really very meticulous when it comes to folding.

• Philippines
16 Oct 08
oh wow. you're worse than i am!

i fold clothes in a certain way, but i don't fold them half as neatly as you do



• Philippines
17 Oct 08
oh. it's good you have house help. that takes away the burden of having to do something that you absolutely loathe every dang day

. i wish we have house help, but seeing that we can't afford one yet, i guess me and hubby ought to do it, lest our house gets infected by pests


• India
16 Oct 08
I dislike cleaning the bathroom. If only someone could do it for me.




• Philippines
17 Oct 08
like you, i don't exactly like the thought of cleaning up the bathroom. but somebody has to do it. and besides, i can't stand the sight of dirty bathroom tiles either, so there


• Philippines
10 Oct 08
What household chore I hate doing? oh my. I think I really don't have the right to hate household chores. Remember I have no house help and no relatives living with me. Every house hold chore is mine and mine alone (why is it there is no crying so loud emoticons? )waaaah! Ok but really, I so hate, disgust washing the dishes. It is not because I find it dirty but I have some traumatic experiences with regards to it. One, when I was a kid and we lived in my grandparents house that houses like more than ten people, we are in charge of washing the dishes. Imagine how horrible that experience was, I am so small and in front of me is a humongous tower of plates

Before I can do the laundry, iron clothes, clean the whole house but I would never ever wash the dishes. but as I have said now I really have no choice. still, I am not liking it, and sometimes to prevent me from doing it, we use banana leaf when we eat


• Philippines
16 Oct 08
well, there's a good suggestion if i ever saw one. use banana leaves when i'm feeling lazy about doing the dishes

. as i said, washing dishes never really bothered me at all, so i guess i'd make a career out of dish washing when i get fed up in my present job.

that
IS
a traumatic experience!but a good training ground for a kid. hee hee. we also have no house help. there's just me, my hubby and svet. but when i'm working, hubby does most of the chores at home (we agreed that i would be the one to work and that he would not to work until svet is a year old, so someone takes care of her closely). so there


• Malaysia
7 Oct 08
Nothing irritates me more than sweeping the floor and dusting table tops. Though I like to be in a cosy surroundings with clean and fresh atmosphere, I would not like to be running around cleaning up the mess left by the kids. That routine I delegate it to my other half to do. The dust particles would make me sneeze the whole day.

• Philippines
7 Oct 08
oh. you are the same as my husband. the reason i do the sweeping and the dusting around the house is because he sneezes like there's no tomorrow if he tries to do it himself.


•
7 Oct 08
My most detested household chore would have to be washing and drying the the plates, something about the whole thing makes me feel dirty. This is why I try to get other people to do it


• Philippines
7 Oct 08

i can't stand the sight of a dirty sink, so i'm not one to pass up on doing the dishes.


• Singapore
16 Oct 08
I have no problem with washing the clothes since i just put them all in the washing machine and press teh start button. I hate ironing. I have told my hubby many times not to buy pants and shirts which are difficult for me to iron. I asked him to buy wrinkle free ones but he hate those. I think it is a waste of electricity (increasing every few weeks) and money. So I told myself to buy clothes which are wash and wear types or easy to iron, in just a few minutes. The main reason why I hate it is that I have to stand and I get all hot and sweaty from it. When no one's at home I usually turn on the music to make me feel better about the chore. A real chore for me. You sometimes I wish there are people who hates the opposite chore as you do living next door, so you could swop chores.


• United States
10 Oct 08
I hate cleaning my kitchen, and that includes washing my dishes. That room get messy faster than any other room in the house. I think it takes the longest to really clean too. If we had a dish washer I think it would go faster and I would mind it as much. Maybe we will get one some day!

• United States
7 Oct 08
For me it's folding the laundry once it is washed. I'll wash all day long, I simply don't like folding them up and putting them away though.