how many chidren would you raise?

China
October 8, 2008 8:45am CST
the day before yesterday is my birthday,my friend asked me how many chidren would i raise in future.i think two is best.a boy and a girl.but i heard that give birth of child is the most painful matter in this world,it's real?i scare of pain.but i proud of my mother.she endured the great pain to give birth of me.
5 responses


• France
8 Oct 08
i have four children, all girls. The pain was horrible but the children are sooo worth it, i love my girls

• Philippines
9 Oct 08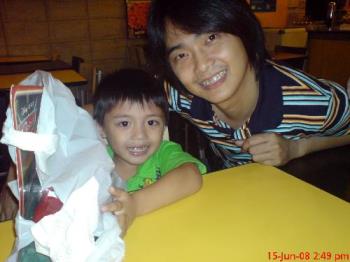 I already have a son, my husband wants to have a daughter and I must admit I want to have a daughter too. Though as of the moment we're not planning to have another child because I'm still in college and we want to save up first. As for the childbirth, it wasn't so painful but recuperating from the episiotomy or the tear of skin due to natural birth is so painful, I can't move properly or the wound would sting.

• Philippines
9 Oct 08
I would love to have many children... i have one right now... and i am hoping to get pregnant next year... since my daughter is already two years old... i think the most that i can handle is four... I agree... it is painful to give birth... but you must not be scared or it... because women has to undergo such pain in order to be part of God's greatest miracle... and that is giving birth to a baby...

• United States
8 Oct 08
Well if you get the meds they can give you during birth its not as painful as everyone is saying however it still pain involed in it. I have 2 children and my frist child i had the meds. but the second i didnt i had him natural which i thought i was going to die lol but all and all after it was over i was good. Of course after you have a baby it will hurt for about a week anyways except mine i walked so much after i had mine the pain was gone in like 3 days so i was good.But its an awesome exprience ever though i love it. Nomore for me though.I also wanted a boy and girl but i got 2 boys and very happy with them both.

• United States
8 Oct 08
sure giving birth 'hurts' but its IMO the greatest pain in the world.....I LOVED being pregnant and giving birth and everythigh that came and comes with having children...I had three kids of my own, two are still alive BUT i always wanted to have LOTS of children 6,7 or more..and if I could finacially afford it, I'd adopt 10 kids actually...but I dont have the money for that sadly..but I'd love to