I need some serious help here on mylot.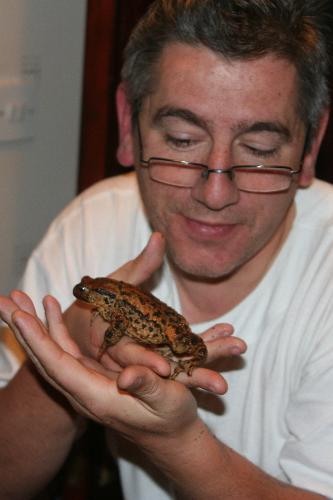 October 9, 2008 4:04pm CST
Please take a look at the picture that goes with this discussion. My son came in to say there was a 'giant' frog in the garden. when i went out i discovered it was a toad. i have scoured the internet and cannot pinpoint the species of toad. can anyone help? any uk toad experts out there? the closest i could get was a natterjack but the colouring did not match. i lie in the west coast of scotland if that helps.
4 responses

• Canada
9 Oct 08
I would think Bufo bufo (the common toad) looks like a likely match, they can have colour variations like that, but I'm not much of an expert on which species you have over there...

• Canada
9 Oct 08
According to www.froglife.org, there are only two toad species known to live in Scotland- the natterjack, which is much wartier looking and brownish with a thin yellow stripe down its back, or the common toad, which can have colour variations like in your pictures depending on its environment and diet. The common toad Bufo bufo is identified by a bronze iris with horizontal slit pupil, as in your photos... After further research, I'm pretty sure it is Bufo bufo, just more brightly coloured than the example on the website :)


• Australia
9 Oct 08
maybe all toads look alike here is a link that may help you http://www.californiaherps.com/identification/frogsid/frogs.id.html

• Hamilton, Ontario
7 Jun 13
I KNOW WHAT THAT IS!!!! I have tons of them in my yard hear in Canada there called American toads, very common to some countries and provences .

• India
14 Oct 08
Hello. I really have no idea what it is, though it does look like a giant frog. But I seriously admire your courage to catch the little thing in your hands. Do take care of it. I don't have the courage to touch it, but I wouldn't like to see it hurt.