How much credit card debt do you have?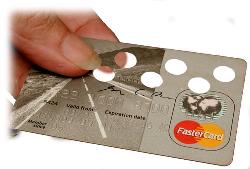 United States
10 responses

• United States
6 Nov 06
Yeaaa! NONE! Well, someone stole my credit card last week when I made a donation to Susan Komen online. But it isn't MY debt.

• Canada
6 Nov 06
NONE! I only have 1 credit card and I hardly used it. I think I only purchased like 4 things on it and that's about it.

• United States
6 Nov 06
At the time of this writing I am roughly $2 in debt. I've got a nice paycheck coming on Thursday, but for the next three days I have to sit at home and eat nothing.

• India
7 Nov 06
nearly one lakh (indian rupees) when it converted to dollars ,it may be around $2084....

• Canada
7 Nov 06
As a sinlge mother working full time and going to school part time, i racked up like 5800 on my credit card, and that is not even tuition, that wsa just money to get me by... i could hardly believe it, but now it's been a year and it's only like 2800 now

• United States
6 Nov 06
A big fat ZERO... learned the hard way a few years back... dont use them now.. have one small balance card in the safe for emergencys only.

• United States
7 Nov 06
Right now we are at about $3500 on a card that has a $4000 max. And its our only card. Uh oh! Fortunately, we pay off about $1000 a month, we just keep using it too.


• United States
7 Nov 06
I don't have any. Be smart and don't use credit cards, if at all possible. It is easy to charge and difficult to pay. Most people don't seem to understand how the cost of having something before they can afford it ends up drowning them in debt. Too many people pay the minimum due on a high interest card and have little hope of ever getting it all paid off.

• United States
8 Nov 06
I pay cash for everything. no credit card debt here