Play With Your Children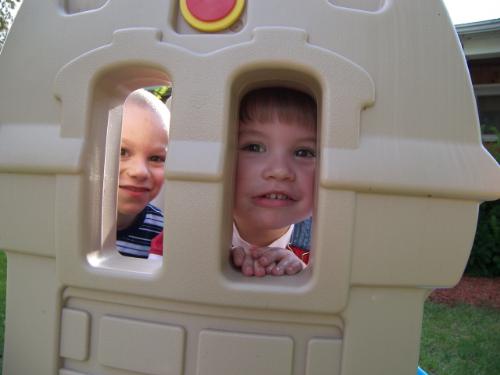 United States
October 9, 2008 10:13pm CST
My oldest son is 4 years old and he goes to preschool 3 times a week. Last week his teacher sent home a paper that shared a study that was done about children and their parents playing together. The study showed that most children only get to play with one of their parents for 5 minutes a day. I thought that was kind of sad. I know we all lead busy lives, but people should make an effort to spend time with their children, especially when they are young. So I sat down with my son and asked him to help me make a list of his favorite things to do with me. It was a simple list of things like reading a book, watching a movie, playing hide and seek and painting. We came up with about 20 different things that he really likes to do with me and I promised him that we would do at least one of those things together every day. So this just got me thinking about what kinds of things other parents do with their children. So please share with me, what are some of your favorite things to do with your child(ren)?
3 responses

• United States
10 Oct 08
This is a hard one as I can't sit my son down to talk, but when I get the time, I play with him with his toys or sing to him, or read, or just babble with him. It's not an easy task but a mom's got to do what a mom's got to do! Wonderful topic by the way. :)

• United States
10 Oct 08
exactly and the interactive songs that we sing makes him all the more excited :) I just wish I did have more time with him.

• United States
10 Oct 08
Hi whittear My son is 3 and he too goes to preschool his favorite thing right now is to come home and tell us everything he did/learned at school Every day they teach a new song the nost recent one was a song about how to call 911 I was so amazed he says mommy you want to see what I learned today then he says okay I need the phone so I gave it to him he starts saying oh no my house is on fire I need 911 to come put it out befor someone gets hurt he looks down at the phone and dialed 911 looks up and says dont worry the phone isnt on I wont call 911 unless its an emergency it was so cute anyways back to your question everyday he teaches me the new song theyve learned or teaches me the new letter he has learned to write and so on then we will watch one of his fav cartoons and during all this hell say but I want sissy to learn too so my little guy has us all in a circle teaching us things they are so precious at that age please tell me theyll stay that way what am I saying I know the crap I put my mom through and Ive always been told your kids turn out 10times worse than you were oh please help me if that is true

• United States
10 Oct 08
Haha. I feel the same way. I want mine to stay little forever too! That's really cute that he wants his sister to learn all the new things he is learning too. Hopefully he keeps that interest he has in school all the way through until he graduates. That's what I'm hoping for my son.

• United States
10 Oct 08
I know that is the biggest dream I have for my kids is to do great in school and succed that is something I didnt do and of coruse I want better for them I mean my life is great but my kids life could prolly e better if I had done good in school rather than just slide by . Yes my son is great with his sister when it comes to that kind of stuff he has already taught her so much shes only 2 she can count from 1-10 say most of our address all of our full names half of her abcs some colors it may not be anything spactcular but to me it is because he has taught her the one thing I wish he hadnt taught her was her attitude man does she have one

• Philippines
10 Oct 08
I believe in this sort of study... parents should indeed spend a lot of quality time with their kids... and that includes playing with them as frequently as they can... my daughter and i hang out everyday... we watch cartoon together... play with her toys... and eat out during weekends... and that made us very very close...