Survivor Week 3 Discussion. Warning Spoilers if you have not seen it.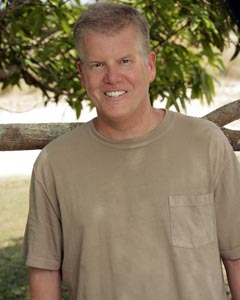 United States
October 10, 2008 1:18pm CST
Ok, so it was not as exciting as the 2 previous weeks, but you have to admit it seemed to add a whole new dynamic to the game. This has got to be one of the earliest tribe mix ups I have every seen. 3 weeks in and already changing the tribes around. On top of that they used a ranking system to do it. Then on topp of that they had to choose from each tribe evenly. That made a great mix. once again I stand behind Randy 100%. I think he has the brains and the brawn to go far. Side Note: In listening to Randy and looking at his facial expressions, does he not look like a heavy Dennis Quaid. Another surprise to me was Kenny. That kids is smarter than I thought at the beginning. Him picking Kelly was ingenious. Knowing that he could sway her. Very smart. Ok, here is where my rankings stand for the final 4. 1) Marcus 2) Randy 3) Kenny 4) Sugar If you remember I had picked Jackie to go to the final 2. Oops. Didn't see that coming. Oh well. Here is where I stand now.
3 responses

• United States
10 Oct 08
If they keep Kelly around much longer, I am going to puke! That was the dumbest thing that they did voting jackie out. They are never going to win any of the challenges. They have those skinny little boys who have no strength, Kelly who does nothing, so who does that leave...Ace, Matty and the Olympic gal. That is all their strength in the tribe. I was suprised to see Matty vote off jackie. I thought that he would definitely vote Kelly. I don't like Randy at all! He is smart, but has attitude. I love Marcus and Matty.

• United States
10 Oct 08
Yes he does have an attitude, but he ussually only shows it bad when he and the camera man is off together. Only a few times did he get out and out upset in the tribe. Even still he did not blow up like you KNOW he wants to. LOL On that team you have Kelly and GC. Both of which are completely useless. I think the only way they can win is maybe in an intellectual challenge. I didn't mention this in my previous post, but did you happen to notice how Marcus was able to get to the ball first every time? I caught it after the 2nd time. Bob braced himself against the goal and when the ball hit the water, bob would take his stick and push Marcus out about 10 feet. Bob is under the radar and EXTREMELY SMART. I may be willing to place him in Kenny's place on the final 4.

• United States
12 Oct 08
Refresh my memory..who is Bob?

• United States
12 Oct 08
Bob Is the eldest man there. I believe that he is a school teacher. He built that bench the first day!


• United States
12 Oct 08
I think that your right Randy IS only running his mouth when it is him and the camera man! He IS holding his tongue all the time. He is using the camera man as a venting post! We all need one of those once in a while! From the beginning I have been wondering about Randy. He does have a bit of a attitude, and seems mouth and opinionated. But, I always feel that everything he says is correct. He thinks things through then present it to the tribe! I see him in the final 4 as well! If not I will be hugely disappointed!

• United States
14 Oct 08
If he can keep proving himself in the challanges for about 2-3 more weeks He has a reall good chance of going to the final 4.

• United States
30 Oct 08
I agree with you here! Randy ONLY runs his mouth off at the Confessionals. He'd have been gone a LONG time ago if he actually said any of this stuff to his teammates' faces! He definitely has an attitude, but most of what he says at camp makes sense. So, we'll see. :)

• India
11 Oct 08
Kenny and Randy will definitely not make it to the final 4. Kenny has a n outsie chance but I fell they will all get together and finally vote of Randy. If you want a long explanation on what I think then do check out the other Survivor thread where I have posted.

• United States
11 Oct 08
Too early to tell. I think Marcus may see him as an asset to keep around for a while. Of coarse all that could change if Randys tribe keeps wining immunity. If that is the case Randy could team up with some of the old fang members. Then go after the old Kota tribe. Then He will see that Marcus is a good ally. We'll see. Iwill check out your discussion.