Signature Hot Chocolate from Starbucks. Have you try it?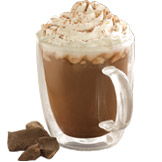 United States
4 responses


• United States
11 Oct 08
No thanks

I think I'll pass on pretty much anything from Starbucks. I hope their chocolate tastes better than whatever that is that they call coffee


•
11 Oct 08
Hi Shelly, I know we have Starbucks here in the UK but I don't know where one is and have never ever been into one. I love hot choclate, me and my girls call them cheery up cups as we make hot chocolate and put whipped cream on top, yummy. Huggles. Ellie :D


•
11 Oct 08
Hi Shelly, Out of interest I did a search of Starbucks in my home county and there are only two, one about 9 miles away and another about an hours drive away, so if I am ever passing I may pop in but doubtful, I'm a take my own flask type person LOL. Huggles Ellie :D

• Philippines
13 Oct 08
What country and branch have you tried that hot chocolate in Starbucks? Here in the Philippines there are hundreds of Starbucks branches. I don't go often on Starbucks since the coffee is pretty expensive and bitter for me, though I think they also have the not bitter types. But I love hot chocolate. The best hot chocolates I drink is the one served by Jollibee on their breakfast meals. I'll check Starbucks here in SM Fairview if they have that hot chocolate that you are describing.