Cheering Station in Day 3 of 3-Day walk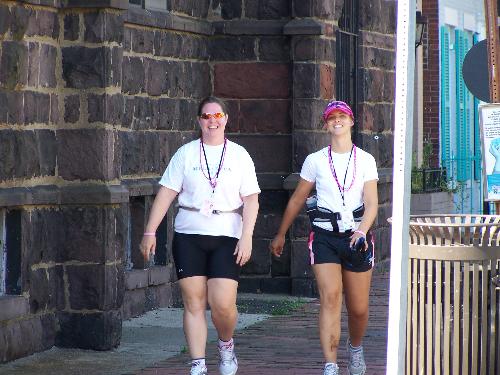 United States
October 12, 2008 12:21am CST
One of the great things about the 3-Day walk for Susan G Komen for the Cure were the people cheering us on. There were 2 official cheering stations each day, with plenty of people just showing up along the route to say hi to us. My husband made it to one cheering station on both Saturday and Sunday. It was wonderful to see him (and get a little smooch in the process). The last day, he remembered the camera and got this "great" shot of me - I'm the one with the sunglasses, the girl I'm walking with is someone I hooked up with during the day. At this point I had walked over 50 miles in a 3 day period and I my knee was hurtin' pretty bad. I had less than 10 miles to go - probably around 6 or so - and I was very ready to be done with it. You should check out the 3-Day walk website and see when the walk will be in your area. Go out and cheer the walkers on, it really helps keep them going. The girl I shared a tent with had some physical problems and during the 2nd day she was overwhelemed with emotion at a cheering station and it helped her get past the pain and finish up for the day.
5 responses

• United States
14 Oct 08
Congratulations for making the walk. They must have had the walk here this past weekend as well, when I was on my way to work I saw people walking with their pink on. Hope your knee is feeling better!

• United States
14 Oct 08
That's cool! I know they have them all over the country. Some people even travel to different states to do a few a year.

• United States
13 Oct 08
I will be at a cheering station for two friends participating in the event in Dallas. They have been training for months now, following the plan the event spelled out to a T. I am so proud of them. And I am so proud of you. That picture will mean a lot to you for years to come. Way to go, reinydawn!!!

• United States
13 Oct 08
Thanks, I'm glad your supporting your friends, it really does mean a lot to them. It was very emotional for some of us at the cheering stations to see friends and family - even if they weren't ours - out there rootin' us on. Make sure you take a camera with plenty of film/disc space!


• United States
12 Oct 08
Oh yeah, the smoochin' was much better than the water or snacks :)

• United States
12 Oct 08
Hey reiny! Nice going girlfriend! I knew that you could do it! I'm so proud of you! You did such a great thing for such a great cause! You have done an umbelievable thing for so many people. That was something that I know I could never have done. Congratulations! Walking for the Cure! You did girlfriend and I never doubted that you would!

• United States
12 Oct 08
There were quite a few people walking that didn't think they could do it and they just did as much as they could. My husband knows he can't do the whole walk, but he's going to do as much as he can with me next year.

• United States
12 Oct 08
Great deal. A lot of walking all for a worthy cause.

They had the walk out here a few weeks ago. Glad hubby cheered you on and got thisa shot as well. Thanks for your walking as well.

HAPPY POSTINGS FROM GRANDPA BOB !!~

• United States
12 Oct 08
During the walk I talked with many people who said that in some cities they streets are lined the whole way with cheering people, not just at the cheering stations. Next year hubby can't cheer, he'll be walking with me!