Superman Returns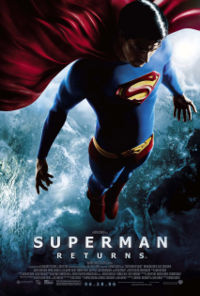 Philippines
October 12, 2008 10:47pm CST
Yesterday, I had watched again the movie of Superman Returns.. Maybe this is my 6 times watching this movies... I really love this movie.. Brandon Routh (who is superman) is really handsome..

I hope there's another movie of Superman.. How about you guys, do you love watching this movie?? You are all welcome to share your opinion or thoughts in here.. Have a great day
5 responses

•
14 Oct 08
Hi kissie being honest here Superman has never really interested me not any of the other ones like Batman etc, so it wouldn't worry me if they did a new one or not..I prefer more factual films and supernatural films...littleowl

• Czech Republic
13 Oct 08
Wow, you watched it 6 times? For me it would be like a torture. It's just so damn boring. Brandon is allright but Christopher Reeve is and will always be real deal.

• Philippines
15 Oct 08
Well, I didn't watched it 6 times in one day.. Of course, I watched it for alternately.. Christopher Reeve isn't available already to be Superman.. His already old for that.. For me, Bradon Routh is a good actor and I like him to be superman..

Anyway, thanks for sharing..


• Philippines
13 Oct 08
Hey there! I love watching that movie too. I love Superman. I prefer Christopher Reeve than Bradon Routh. Reeve is the best. happy posting!!

• United States
13 Oct 08
This movie was horrible. Where are the real villains? No Lex Luthor is not a real villain because if you have seen Batman's Rogues Gallery, you would agree that Superman's villains cannot beat that. The only great villains Superman ever had was Doomsday, Brainiac, and Lobo. Krytonite mountains, what? Who came up with this idea? And since when was it okay for Superman to be a father without marrying Lois Lane? He is Superman! He's "Mr. Morals"! Where did his morals go? This was a slap in the face to true Superman fans. Spider-Man 3 was a better movie than this, and most of us Spider-Man fan complained that it was too "Emo" for our taste.

• Philippines
15 Oct 08
I can see that you really hate this movie..

Well, I think the reason why Superman didn't marry Lois Lane because when superman knows that he has a son it's already too late.. I besides he can't marry Lois Lane since he is a super hero and it may risk the life of Lois Lane and his son.. For the safety of them, people should not know that he has a son.. And another thing is Lois Lane doesn't know that superman is Clark, one of her officemate.. So, she will be really shock if she found out that Superman and Clark is only one person.. Well, we all know that all super heroes need to hide their identity for the safety of people who were close to them..

Anyway, thanks for responding..