Do You Recycle Gifts?

Philippines
October 13, 2008 3:47am CST
It's almost Christmas! Time to go shopping for all my holiday gifts! I won't be buying gifts for everyone though because I'm hoping to be able to recycle gifts that I don't really fancy. I think recycling gifts isn't bad at all as long as the giver doesn't find out and if the person you're giving the recycled item to can appreciate it more. What about you? What's your stand on recycling gifts?
6 responses

• Philippines
13 Oct 08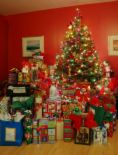 Hi there!

Well I don't receive a lot of gifts at Christmas so there's nothing to recycle and I also use the gifts I receive. But I won't be buying gifts for this Christmas. We have so many stocks from our shop that can made into crafts like jewelries, bags, hair bands and some cross stitch materials that can be made into bibs, pot holders and mugs. I will be working on my artistry so they can be useful and me and my mom are planning on giving them as a gift. Personally I think its ok if we recycle gifts we receive that we don't use. It's not that we don't appreciate them but we just don't have use for it so its better to give them to someone who might be able to use it. It's just being practical. Ciao!


• India
13 Oct 08
I never do that. After all the gifts that I have are given to me either by my parents my friends,or my relatives. Be it small or big it will keep reminding me them everytime I see it.How worthy they are for us and we for them. I even preserve the gift wrappers and the cards they stick above those gifts. I can't even imagine a sitution where they gift I give for someone is recycled and sent to someone else,I'll be thoroughly shattered. So,I should also not do the same with what I've got from others. If I am not able to afford them,I would prefer not to gift, but will never recycle the gifts which my dear ones had presented me.Will always treasure them. Just my perspective :) Cheers :)

• Singapore
17 Oct 08
My stand is that if you know someone will appreciate the gift more than you, why not? I am also for recylcing gifts to save the environment. Well, it's kind of similar to accepting second-hand stuff from friends and relatives. If you don't mind that, why not gifts, which probably have not been used and still in good condition. It will save you a lot of money this Christmas!


• United States
13 Oct 08
Hi! In my opinion, recycling gifts is not really that bad as long as we believe that the recycled gift would suit the person who will get the gift. Sometimes, we get gifts that are not suited for us, so they should not go to waste. The best option is to give them to those who would appreciate them. There is a funny incident, though, that took place in my sister's office. Her boss is a cheapskate, so he liked recycling gifts. She is his assistant so she knows. During Christmas (last year), there was an exchange gift in the office. Lo and behold, the one who gave the boss the gift (which he gave him a few days back) got his old gift back (from the boss of course, who was not aware that this very receiver would be the same person who gave him the gift before)! It was really funny when my sister told me this. I guess the moral to this is to not recycle gifts within your immediate environment! Hahaha. Happy myLotting!