Do You Use Turmeric AsOne Of the Ingradient In Cooking?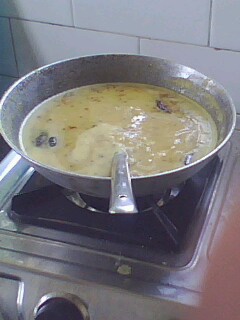 India
October 14, 2008 7:25am CST
Turmeric is known for its antiseptic properties. It is basically a rhyzome i.e it grows under the ground. It isone of the ingradients used in Ayurvedic meicines also. In India turmeric is used in powdered form after drying it, regularly in daily cooking.Practically no curry goes without the addition of turmeric. Apart from adding taste and colour to the curry it prevents many diseases.When ever we have fever and cold our elderly people advise us to have a glass of milk along with half a spoon of turmeric powder in it! In kerala and other states where Turmeric is grown it is used in raw form in cooking.Turmeric is used in pulses,what we call in Hindi as 'Daal' to impart colour and taste! I know people from few other countries like Pakistan, Sri Lanka, Nepal, Bangla Desh etc which are adjacent to India are using turmeric in cooking! I want to know, if you use turmeric as one of the ingradient in cooking? Please respond! Thanks!
2 responses

• United States
14 Oct 08
I have Turmeric in my cupboard but for some reason I over look it when I'm cooking. I did not know that it could also be used as an antiseptic or for reducing fevers. I will be looking for ways to use Turmeric from now on. This has been and interesting discussion so far. Thank you for starting it. Have a blessed day

• India
14 Oct 08
There are innumerable benefits from Turmeric which have been mentioned in Ayurveda a natural/Herbal way of curing diseases, because of which it hasbeen incorporated as one of the important herb in this type of Medicine. Some of them are given below: Turmeric helps in detoxifing the liver,reducing the cholesterol, fighting the allergies,boosting immunity,improving the skin complexion and as mentioned earlier it helps in digestion too! In Ayurvedic Medicine this herb is used to reduce fever, diarrhoea,urinary disorder,cough, insanity,poisonings and lactational problems.It is having aphrediasac effscts.Anaemia, Cancer,diabetis, food poisoning,gall stones, indigestion, parasites,poor circulation stapylococcus infection and wounds are the conditions where turmeric is indicated! Thanks for participation and showing interest in the herb! All the best and happy Mylotting

• Malaysia
15 Oct 08
I love to put turmeric powder in my cooking. Since I am a Malaysian, we use to put turmeric in almost anything. We fry fish and chicken with some turmeric powder in. I put some in yellow curry, rice dishes and barbecue. Turmeric has antiseptic properties. If put on cuts, it can help wounds to heal faster. Sometimes, we use it to cure cold by putting some on the nose. Looks like clown for a little while but it does work. Some even put turmeric roots in hidden places to get rid of insects like ants. I found out that scientist made discovery that turmeric helps to cure or lessen effects of Alzheimer, cancer and liver disorders. Some of of the cosmetic companies put turmeric in their skin care products because it gives glow and helps to get rid of bacteria.