UPCAT soon to be shown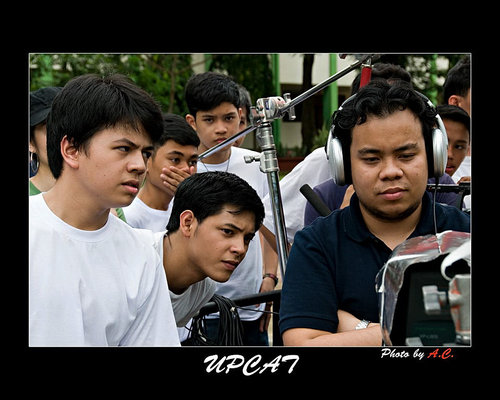 Philippines
October 15, 2008 3:26am CST
UPCAT is well known as the University of the Philippines College Aptitude Test. It will soon be shown in the theaters. It's a story of a boy and his dreams of becoming successful (or someone). And of course other students who aspire to be part of one of the known universities in the country. The movie is from 2008 Cinema One Originals Happy Endings Films and Bigtop Media Productions and Digitrax Sound Productions. It involves FELIX ROCO, HIYASMIN NERI, JOSEPH ROBLE, BEMBOL ROCO, MALOU CRISOLOGO, MARK GIL and RICHARD QUAN. It seems an interesting movie. It interested me more when I saw that one of the scenes was taken in UPLB.

I hope it has a PISAY the movie effect too.

One of the trailers can be found here: http://www.youtube.com/watch?v=lMCqhpdtZgQ
7 responses


• Philippines
16 Oct 08
Oh, I hope you won't resort to Quiapo. Hehe! I mean, let's support indie movies. I am really into indie movies (except those sexually exploiting ones). Let's just support these producers who (despite the rampancy of pirated) still are after making better movies.


• Davao, Philippines
15 Oct 08
wow very exciting movie that will be viewed soon. i am interested to take the up exams before but because i am not a good standing student during my high school so i wasn't admitted. i looked another alternative, i am very thankful i passed the scholarship program of Pres. Joseph Estrada and finished my university
@
Mindanao State University - Iligan Institute of Technology in Iligan City. I am happy with my college days before. I will watch this movie and make one of my video shop collections. Thanks for posting the info.

• Philippines
15 Oct 08
Oh, I was not also part of the top people in highschool and so was my brother, but my mother fought for us and told the people in the school that every graduating student has a right to take that and just try their chance.


• Philippines
15 Oct 08
wow thanks for sharing this. I am also a UP graduate and proud upcat passer. i have no idea about this film until i saw your posts. at first i thought you are talking about the upcat results so i got a little confused. anyway i wish i can watch this.

• Philippines
16 Oct 08
Hahaha! you guys are really funny! anyways, when I saw it I was like how would the setting be, in what context! anyways, I believe it's one cool movie.


• Philippines
15 Oct 08
hi tryxiness. thanks for sharing this one. i passed my upcat as well but i never did study at up. i just go there a lot to hang out with my high school friends who studied at up diliman and up manila. by the way i haven't watched pisay yet and i was wondering where i can get a copy of the movie and the soundtrack. hopefully, some soul here in mylot can help me out. cheers!!!

• Philippines
16 Oct 08
About Pisay, it was shown last time (I think) in SM cinemas prior to the home coming.

I'll ask friends about where to catch it.


• Philippines
16 Oct 08
Oh, erratum, it was shown only in SM North (hehehe)!



• Philippines
22 Oct 08
I still have to check on the dates though Cdy. But I will inform you soon.


• Philippines
16 Oct 08
Oh what an interesting movie indeed! It seems like the cast isn't very popular though. Maybe they should have used more popular lead actors. Anyway, I might not watch this movie since I never took the UPCAT. I went to another university so I'm not that into whatever goes in UP hehe.

• Philippines
16 Oct 08
The cast is not popular (since most of them are new and) basically gives meaning to what indie movies are made of.


• Philippines
16 Oct 08
Thanks for sharing that link. I do hope that when the movie comes it would show how UPCAT really is. Also I hope that it would make people understand that UPCAT is no joke and it shouldn't be belittled or feared.


• Philippines
16 Oct 08
I hope it will. It's funny, I get this notion from the trailer that it will show how students would fair in review classes.