Funny wedding announcements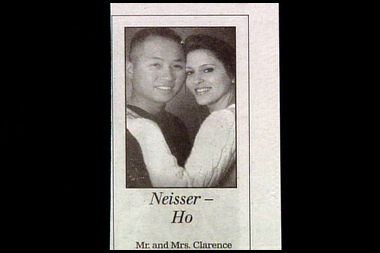 United States
October 15, 2008 12:16pm CST
My friend found this picture and though it was worth sharing. I thought I would share it with you all and see what you thought of it. Do you spot the funny in it?

Have you ever read a funny wedding announcement? What was funny about it and why? Did your wedding announcement have anything funny in it? I think the printed word can be really funny.

When people mess up it can have hilarious results. I love a good laugh. Share your with uis please.

1 response

• Philippines
15 Oct 08
i checked on the picture but i cannot honestly find anything funny or hilarious about it..

it's just a picture of a couple.. except though if the word beneath it has a meaning whic, i dont understand.. mind to explain though?


• United States
15 Oct 08
Sure, a friend of mine that is a cop found it and shared it. We both watch JLeno on television. That show has funny clips from the news. Their two surnames names listed are the funny part. Read the print and you will see that. I have several more. That guy is such a goofy man. He loves to send these things to us.