Disguise the Limit

United States
October 15, 2008 1:41pm CST
That is the name of a costume shop here in my city. Boyfriend told me this is where he got his pink Elvis jumpsuit for one Halloween. The shop has been on the same spot in our downtown area ever since I could remember and I always find myself smiling or chuckling at their store sign as I drove by. The owner(s) really came up with a genius and funny name. Do you have a store/shop in your area that is quirkily but aptly named? What were they selling? Or what services were they offering?
5 responses

• India
16 Oct 08
Hahaha That's indeed quirky! Loved the name! Is it a new shop? If so, they would make huge profit this Halloween. Good for them. Can't remember any name right now, will share once I get my memory sharpened.

Is Halloween next week?

• United States
16 Oct 08
Hello, mimpi. I'm glad to have made you laugh. The shop has been here since I first got here, in the later 90s. But I have to ask Boyfriend if they've been there longer than that. Yes, they do make a lot of money during Halloween celebrations. Halloween is on the 31st. Although there are shops here that only open when it's Halloween time for the costumes, Disguise the Limit is open the whole year. Come back if you remember something.

• India
23 Oct 08
Hello, Sisi. I didn't remember anything but still came back to wish you Happy Halloweens. What are your plans? we are having the festival of lights during the same time. It's 28th to be specific. It is followed by another festival where the sisters celebrate for their happiness of their brothers. That's called BHAI DUJ. We have a lot of good food, some rituals and exchange of gifts. It's fun! This time however, I will have only one cousin brother with me.
HAPPY HALLOWEEN


• United States
23 Oct 08
Thank you, Mimpi! It would be a mellow evening for me, I just found out. Initially, we were planning to go have a dinner with another couple friends and then carve pumpkin like we did the last two years but it's not happening this year. Everyone will be working except me so I'll probably just stay home and give out treats to kids. The festival of lights sound very interesting. I can just imagine how beautiful and fun it would be to take part in it. Or even just be a spectator. I am also curious about this BHAI DUJ. So the women celebrate their male relatives? Do the men get to do this too in return? I think both celebrations bring the people and family together so that is very, very good in my book!

•
19 Oct 08
thats a fab name lol i can't think of one here but theres a air conditioning place in london called stiff nipples that name i have never forgot i thought it was extreemley apt and amusing.

•
19 Oct 08
ps i think this is a fab discussion babes you should have more responses than this

• United States
19 Oct 08
Ahahaha! I'm surprised they haven't been scrutinized or up for censorship over there. I wonder what their business cards look like. I can just imagine this conversation in an office with a broken AC: "We got to have our AC fixed ASAP. Better call Stiff Nipples." Phone rings. "Good morning, this is Stiff Nipples, how may I help you?" LOL!

•
19 Oct 08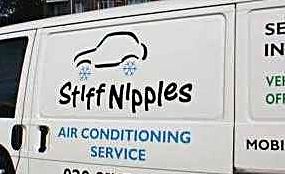 i know lol it's gotta be hard keeping your face straight for that initial period. Not sure about their business cards but they are probably similar to their vans which look like this.


• United States
4 Nov 08
There aren't too many stores in this area, and what there are really aren't quirky or quirkily named. There is, however, one furniture store that has a somewhat irritating name, and I certainly hope that it isn't aptly named; I'm not certain, though, since the name is annoying enough that I won't go in there.

• United States
4 Nov 08
Now, wilsongoddard, you are making me very, very curious.

• Australia
19 Oct 08
What a great name! lol. The only real one I can think of at the moment is a Chinese Takeaway back in Australia that called themselves the "Hard Wok Cafe"!

But the cartoon show
The Simpsons
has had some really funny ones in some of their episodes. I obviously can't remember all of them but here are a few that gave me a chuckle and stuck in my mind: Eye Caramba! - Eye Clinic The Family Jewels - Jewellery Store Turn your head and coif - Hair Salon Java the Hut - Coffee Shop


• United States
19 Oct 08
It is a funny name, James. But I think it pales in comparison to the other names given here. I just like people with this kind of humor. Hard Wok Cafe. Heheh. I wonder if they had to ask permission from Hard Rock Cafe. I've seen a few Simpsons episodes. I'm not really a fan fan. But I do have a lot of friends who can't believe I don't enjoy it as much as they do. I do like all the ones you mentioned... but I'm pretty sure I've seen a Java the Hut coffee shop somewhere in the real world. Thanks, James.

• United States
15 Oct 08
A cute one that comes to mind is an online store where I recently shopped for hydroponics supplies and they call themselves Worm's Way. I bought clay grow rocks for my indoor planters, which are dirt-free and so worms are not required.

• United States
15 Oct 08
I checked out their site, drannhh, and there's that Aerogarden again! I don't have a lot of knowledge about gardening and I had to look up clay grow rocks. It is a cute and an appropriate name for an earth-friendly gardening store.