Durgaa Poojaa Vacation Ends Now!

India
October 15, 2008 3:26pm CST
After a week or few more days, vacation for the great Indian festival Durga Poojaa ends now and schools, colleges and offices are opened to resume work again! Here in my country as well as locality, this vacation is the longest for the Government employees. Since India, my country, has a very rich culture and religious heritage, holidays for a day or two on such festival occasions are very common in every month! Are you also enjoying such holidays from work on festive days every month at your place? Please express your views in depth with your country's name!
1 response

•
17 Oct 08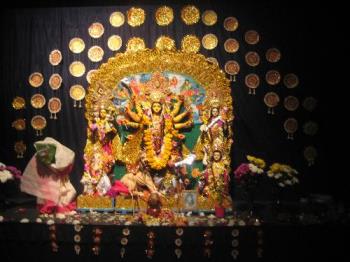 Hi pal, Shubho Bijoya to you, sorry my greeting is late! I had a lovely Durga Puja here in London and went out 4 evenings in a row last week, dressing up in bright colourful saris and seeing all the lovely Ma Durga murthis and meeting up with friends and having fun generally. We don't get time off in the UK for this Hindu Bengali celebration but as far as I'm aware some schools give kids time off for Diwali/Kali Puja.

•
10 Nov 08
Thanks for the BR on this one pal. Kali Puja was about 2 weeks back, do you get time off for that too in Calcutta? :)