Question : Should SARAH PALIN be a heartbeat away?

United States
October 17, 2008 6:31am CST
Yes, it is true. There is currently a photo montage of Sarah Palin circulating the internet. It asks the question, "Should Sarah Palin be only a heartbeat away from the Presidency?". Take a look and decide for yourself. http://fp1.centurytel.net/polydimensional/miscellaneous.htm I say this collection of photos is proof Sarah Palin would be a good VP. What do you say?
10 responses

• Canada
18 Oct 08
I don't think this collection of photos is proof that Sarah Palin would be a good or bad VP. However, I don't think she has enough experience to be a heartbeat away from the presidency of the most powerful nation in the world. She was the mayor of a very small town, the governor of a state with a low population density and it seems she relies heavyly on her "first dude". She has no experience with foreign policy, speaks not one foreign language, is not an intellectual, nor an accomplished states woman, compared to Condi Rice. In addition she has a family situation that requieres her full attention. A pregnant teenager and a Downs Syndrome baby would tax the strongest person even if the resources to hire nannies and child care workers are available. No, no.

• United States
18 Oct 08
Literally speaking, you are, of course, right these photos do not prove Gov Palin fit to be VP. I'm just biased in her favor. As to your other points, that Gov. Palin has numerous demanding domestic duties that require her attention, those are true. These would the composition of that glass ceiling we hear about?

• Canada
19 Oct 08
No, it has nothing to do with the glass ceiling. I was an early supporter of equality in the workplace, equal pay for equal work and I am happy that I could contribute to achieving this goal at least as workplaces in the Canadian Government are concerned, which by the way enabled me later on as a single mother to send two children to university out of town. In my humble opinion the domestic burdens that Sarah faces would be too much to shoulder for either man or woman a heartbeat away from the presidency. The other point I alluded to is that I don't think she has the intellectual wherewithall that is needed for the job of a VP of America.

• United States
17 Oct 08
I'm sure I could find a few good pictures of Hitler kissing babies & such too. A few pics don't show what a person is really capable of. It's her record that counts. Right now that record isn't all that great when you look at it closely. Right now she has a high approval rating in her state. DUH - they just handed out a huge chunk of change to everyone that the Big Oil companies gave them for keeping quiet. She's presently being investigated for abuse of power as govenor. Yea, so lets give her even more! She's known for cleaning out corruption in her state . Coincidentally all that corruption was from people who opposed her. Her cabinent has put out a $150 bounty on wolves which are only a little ways above going back on the endangered specias list. They can even be shot from the air indescriminatly & the pups have even been killed ( killing the pups btw is still illegal ). I knew about this lady long before she was the V.P. choice. When McCain picked her he stoped being an option.

• United States
17 Oct 08
The difference between the Hitler pics you mention and these Sarah Palin pics is that I think the Palin pics are just family pics not necessarily taken for propaganda purposes whereas the Hitler pics were a part of a major effort to deceive. I've checked into the abuse of power charges and they look totally baseless to me. Even the head of the committee looking into it, without saying it, admitted he was biased when saying there was nothing criminal done but that he still thought what Gov. Palin did was reprehensible. How much more biased and prejudiced can a guy get? If she did not break the law, say that. There was no need for the negative qualifying statement. As to the wolves, you have got me there. It does seem odd that in a state as large and vast as Alaska there could be any need to shoot wolves.

• United States
17 Oct 08
uath13, The abuse of power charges are a trumped up, "October Surprise" As promised by a partisan Obama supporter. She wanted the State trooper fired for absolutely legitimate reasons. Threatened her family. Tasered a 10 year old boy. blablabla http://www.youtube.com/watch?v=OiBl5dgxIdw The wolves are not "shot from the air indescriminatly"(sic) Only specially licensed individuals were allowed to do this and only during certain times of the year and it was done to help increase the caribou population. And it was successful in doing that.



• United States
17 Oct 08
Yes, I'm a Palin supporter myself. I, too, thought the short skirt pic was fake.

• United States
18 Oct 08
She just doesn't seem like the scanty skirt type to me.


• United States
17 Oct 08
Just to add my 2 cents worth (or maybe a whole quarter) - with McCain's age, people seem to be focusing on the fact that she is a "heartbeat away" from the Presidencey if he wins. Facts are that he is very active and healthy for a man his age and his MOTHER is still alive, active, and in control of her faculties. McCain stands a very good chance of surviving the next 4 years. If something does happen to him - the two of them will have already assembled a full staff of advisors to advise both of them; that staff will not disapear if he should die. Afraid she might make a mistake - well, I personally do not know of a single President who has NOT made mistakes both in and out of office. So, that is nothing new. What kind of worries me is, the Democrats who approve of Biden being a "heartbeat away" from the Presidency if Obama wins. Considering the fact that Obama is both younger and healthier than Biden; the chances of Biden having to take over are slim to nonexistent UNLESS Obama is assassinated. Is this what the Democrats are actually hoping for? Do they plan to use Obama's "charisma" to get a Democrat in office and then get rid of him so that his VP will take over? Food for thought.

• United States
18 Oct 08
I seriously do not think anyone with any kind of brain would plan for the demise of 0bama so Biden could take over. Additionally, I really do not think a sitting President can any longer be murdered. The protection is just too good these days unless a secret service agent assigned to protection suddenly went crazy unexpectedly while on duty. Chance of that? Slim to none.

• United States
17 Oct 08
Ok, red, throw some cold water on your face and tell me what any of those pictures have to do with Palin's ability to sit in the second chair? Last time I checked D.C. didn't have a problem with wildlife running loose on the grounds of the White House...or fish. It's the hooker look, isn't it? LOL!



• United States
18 Oct 08
Seriously, she reminds of Teddy Roosevelt, one of the best Presidents who ever lived.

• United States
17 Oct 08
I agree. These prove that she is a lot closer to real America than 0bama and Biden.

• United States
17 Oct 08
Not only a real American, but one who has had a few outdoor adventures for which I admire her.

• United States
17 Oct 08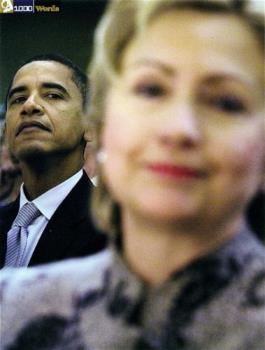 Man that picture of Obama says it all. Why are there so many pictures of him like that? He's straining the back of his neck to get his nose up that high!! I always heard the expression "Looking down his nose", But I've never actually seen someone do it like The Obama does it!!

I really don't want to spend the next four years looking up my President's nostrils. Of course if he is elected we probably won't be allowed to look directly at him anyway.


• United States
17 Oct 08
Good picture of Hillary and 0bama. I wonder how many Republicans that cheered 0bama defeating Hillary wish now she'd won the nomination?

• United States
21 Oct 08
LOL... hey how about I take that pic of 0bama with his head tilted back and put that caption on it? Imagine the text below on one of those arrogant pics of 0bama. Ah...Take a good whiff. My farts smell so good!

• United States
21 Oct 08
Well They say he is a Fart smeller...I mean a smart feller.



• United States
24 Oct 08
A good combination for VP and a lot of other things, too. All good I'll bet.


• United States
18 Oct 08
OOPS... did I let on I liked that one particularily outstanding photo? Don't tell my wife. All those pics are great. My second favorite is the one with the fish.


• United States
18 Oct 08
That is the same impression I get.