Which hair cut do you wish made a major comeback?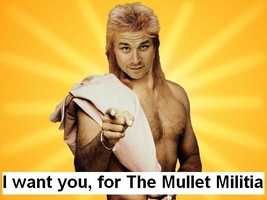 United States
October 17, 2008 10:46am CST
There were many fashion dos and don'ts through out the years. The rat tail, the mullet, the Rachael, the Sir Lance-a-lot hair ...yeah you all know it ... (think the Berries and Cream Skittles commercial...). Which haircut do you secretly wish made a comeback?!
2 responses

• United States
17 Oct 08
You know something, I don't think the mullet ever went out of style. I still see a few people evry now and then still trying to keep hope alive. I got one girl at my job who has one. Picture this, a puerto rican lesbian walking around with a mullet. Not that I have anything against lesbians or puerto ricans. That's just what she is. I think the mullet is the funniest hair style I have seen. I think I should get a mullet wig for halloween. Or maybe i should grow my hair out and get an original. I am a bald headed black man. I would have to grow my hair out into an afro, and get it trimmed all the way down on the sides, take a little off the top, and let the back all hang out. Now everyone out there knows how stiff and nappy a black mans hair is. It wouldn't be swooshing back and forth. Maybe I'll get a jery curl mullet. That's exactly what I'll do. I'll be the best looking man on the planet

• United States
17 Oct 08
You know - I think the jeri curl mullet is the sh*t! THat's perfect. Just make sure you have a lotta juice perhaps some soul glo (please tell me you know what that is...). You want that sucker juicy! Nothing worse than having a dry jery curl. You know what other hair cut I miss... the high top. It's a mini table incase you have your hands full. Lemme just place my drink on my head to get my keys. Fantastic!!!!!

• United States
17 Oct 08
I just like the longer hair styles. I think long hair is so pretty and you can do so much with it. Some of the really old movies had some awesome hairstyles! I just like mine long so I can do different things with it!

• United States
18 Oct 08
I dig long hair ... on men and women. I just wish I didn't cut my hair. it depends on men -- long hair sometimes on men looks just greasy - other times it really sexy :) Same on women -- it sometimes looks beautiful - other times it's a mess. it's all how you groom i guess lol