God is good

Philippines
October 18, 2008 4:48pm CST
God is really great… He keeps me from all my pain and problems… he takes away my fear and worries… He never leaves me… when I cry out to Him he listens and come to my rescue… He proved it to me that He hears His children… everyday in my quiet time, he teaches me lots of things. He encouraged and lifted me up…. Jesus is really good and loving… I wish I could express it more to you how im overwhelmed right now of God's blessings! I have too much blessings to count… He will prove it to you to my friend… just wait on the Lord and seek Him… he just one prayer away….
10 responses

• United States
19 Oct 08
[i]Hi chechuva, Long time no see..anyway, wherever you are, just be safe! and glad to have you back! GOD is indeed good and he is very kind even if we have shortcomings as a person and it's very relieving really to always talk to HIM![/i]




• United States
19 Oct 08
I completely agree. I always feel so much better after talking/praying to God. It calms me and gives me hope and faith not to give up.

• Philippines
19 Oct 08
yes god is really good in all times and the times of our downs he will listen to us and rescue us from the pain that we suffer. we have to be thankful that his present is always there. we always do our sincere prayers and be thankful for the blessings that we have for he loves us. I am glad that you are blessed together with your family.

• Bermuda
18 Oct 08
god is awesome he is good all the time and all the time he is good he is good all by himself because he is god all by himself he is a friend that sticks closer then a brother he promised to never leave us or forsake but to be with us always jesus is always there no matter what we are going through he said that he would be our very present help in time of trouble and he is just a prayer a prayer away but people do not realize this and we need to as christians continue to spread the word about his love mercy grace salvation because he is eveyrthing we need him to be he knows all and understands all!!!! i pray that he continues to richly bless you!!!! farther god in the name of jesus i come to you right and i pray that you continue to move by your holy spirit in this persons life and i speak increase right now in jesus name move like only you can move and be god likes only you ca be for them bless them in abundance in jesus name i pray amen!!!!

• Philippines
20 Oct 08
Hi chechuva! You are right God is great and no one else could be greater than Him. I've proven his greatness in a million ways more than one. For one He saved me! That is more than enough a proof of His greatness. Imagine giving His only son Jesus to die for my sins? And He was not contented in just saving me...He keeps me and guides me all the day of my life. He never leaves me ... He is by my side alway. God is indeed great. And great is His faithfulness. As my favorite hymn..Great is Thy Faithfulness goes: Great is Thy faithfulness, O God my Father; There is no shadow of turning with Thee; Thou changest not, Thy compassions, they fail not; As Thou hast been, Thou forever will be. (Refrain) Great is Thy faithfulness! Great is Thy faithfulness! Morning by morning new mercies I see. All I have needed Thy hand hath provided; Great is Thy faithfulness, Lord, unto me! Summer and winter and springtime and harvest, Sun, moon and stars in their courses above Join with all nature in manifold witness To Thy great faithfulness, mercy and love. Pardon for sin and a peace that endureth Thine own dear presence to cheer and to guide; Strength for today and bright hope for tomorrow, Blessings all mine, with ten thousand beside! ------------ Indeed my friend, GOD IS GREAT!

• India
19 Oct 08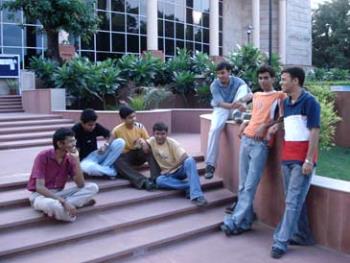 hello, ya the almighty ... the god is indeed good. what ever we are and what ever we get are all his ... there is nothing we can offer him as all that we have are in fact his. we live our life because of him and we quit our lives ... that too because of him. some times in our life we get very frustrated .... when we do not have any one to stand by us... then we must not forget that there is the almighty who is looking at us and trying to give all the support.... but we fail to recognize that. ya indeed he is a prayer away. have a good day here at mylot.

• United States
19 Oct 08
You are certainly right. We serve an awesome God, he will never leave us or forsake us. In good times and in bad times God is always thre=ere to lift us up. He is a deliverer, he will deliver you from whatever is holding us down. He is the alpha and omega, the starter and finisher of our lives, if we would only trust in him, we all can have abundant lives.

• Mauritius
19 Oct 08
You are absolutely right my friend. God is with us everytime. Whenever we call Him with all our heart, He is here for us. He listens to our prayers and help us to face many situations in life. We must all pray to God that this world become peaceful and human start caring for each other.


• India
19 Oct 08
hi You are a certainly blessed soul. I hope the Lord gives you HIS love all the time. Yes, God loves us. But we fail to realize it. HE can't leave us and leave us alone. But again we fail to feel HIS holy presence. I pray that you always enjoy HIM and HIS eternal love. Be happy


• Philippines
19 Oct 08
I agree. he is a good being even though i have occasions of sins.