What do you like about fall

United States
October 18, 2008 7:31pm CST
I live in the beautiful mountains of extreme north Georgia .This is a very beautiful time of the year as the leaves begin to change colors before falling to the earth .I really wanted to try to capture this in a poem before I wrote this post and post my poem about autumn ,but not feeling too poetic tonight .Anyways its been a beautiful Saturday here in the mountains ."As rays of golden sunlight kissed the kaleidoscope of leaves,the world saturated in a golden haze under a tent of blue skies ,which brought the memories of a thousand Autumn afternoons crashing down upon my soul ." That's the best I can come up with ,anyways you get the picture . How about you ,do you have a poem or picture or anything about this beautiful time of year ,as the heat leaves us and the cold sets in .
4 responses

• United States
19 Oct 08
Autumn is my favorite time of the year. I love everything about it... the way the leaves turn such vivid colors, the way they look dancing through the air in a gust of wind, the way they sound under my feet when they have carpeted the ground. I love the feel and the smell of crisp autumn air, perfect for a sweater and a campfire. I wish that spring lasted 6 months and then fall lasted 6 months. I could do without winter and summer entirely.

• United States
19 Oct 08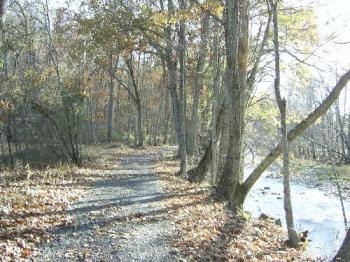 Oops! I forgot I wanted to post this photo. It is one of my favorites of the river by my house.

• United States
19 Oct 08
I like the beautiful changing colors of the leaves. I like the cool, crisp air. I like being able to wear a sweater. I like Fall Festivals, Halloween, etc. And I like being able to eat things like chili and cornbread a lot. :)

• United States
19 Oct 08
I know what you mean; I have been to your part of the world about four years ago when I went to a church retreat up around Calhoun, Georgia; we went hiking one Saturday afternoon, and I tell you, the fall colors up that way are so beautiful; you are truly right, it's not short of poetic or breath taking.

• United States
19 Oct 08
i live in texas el paso its pretty dry but its still pretty nice i love the wind breeze and all the leaves falling of