Hmmm, are you eating french fries right now?

Philippines
October 19, 2008 8:46pm CST
Well, I almost could smell it. The delicious aroma of the food. I love french fries and I always have it either hamburger or spaghetti. I have a nephew who can't eat without french fries. If we eat in a restaurant without fries he needs to go to buy french fries first. The smell of french fries is making me dizzy. Got to get going now to buy some as I'm starting to starve. Actually I haven't have breakfast yet...Bye...happy mylotting
5 responses


• United States
20 Oct 08
No but the other day I went out and ate at a pizza restaurant with my mom and sister. I recently had pizza the other day so I didn't feel like ordering some. So I ordered a BBQ beef and it came with fries. First of all the beef was really good and the sauce was a little sweet so it was good. But the fries were amazing. They were like steak fries so they were thick and really tasted like fresh potatoes and not the kind you get at like McDonalds. Some of them were cooked so good that they were either really crispy or they had some soft ones mixed in. They were really good and it really hit the spot.

• United States
20 Oct 08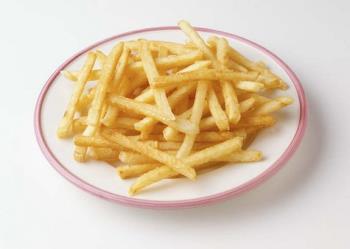 i'm not eating french fries but i did just have a peanut butter cookie and it was really good

and i'm going to be having a fruit roll-up here soon probably too... hehe. i love french fries though... they are soo freaking good. who couldn't love them? i love all the different types and shapes that they come in.. curly fries are some of my favorite! they are really good. they might not be good for you but they are just soo freaking good!

i like ketchup and mustard on the side on them and even BBQ sauce..now that is some good stuff lol

• United States
20 Oct 08
I have to agree... I am definately not eating french fries at the moment but if I had some ready to eat or to make or even to walk across the road and buy... I would do so in a jiffy. French fries are the number one american made foods I have ever eaten. They go along with everything and they taste good alone. Dip them in ketsup, dip them in a shake, eat them cold, no problem what-so-ever. lol

• Canada
20 Oct 08
What a broad question obv only like .001% of people are gunna be eating frenchfries