mommies - I know most of you have been here...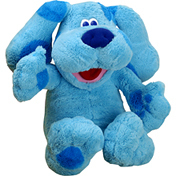 United States
October 20, 2008 12:28pm CST
My daughter's birthday is coming up. She's really like blue's clues, dora the explorer and Go diego go. I want to incoporate characters for a party... but I'm stumped lol what do you think? Has this happened to you? I don't know which she likes more! have you ever just blended characters together for your kid's birthday? If it was up to me, she'd have a tinkerbell party but the party is not for me it's for her LOL.:) You moms always have great ideas!
6 responses


• United States
20 Oct 08
No :( she's turning 2. But I ask her what do you like Blues Clues or Dora and she says "Yesh." She interacts better with Dora and Diego ... so I guess I answered my own question lol. I think she like blue's clues but because theres limited physical interaction ("Say it with us..." or asking the kids to jump or shake like dora and diego do) she just sits there for Blue's clues and points to the color or shape she knows. A Dora and Diego party would be cute! Thanks!

•
21 Oct 08
My son will celebrating his 1 year old on December so i never yet experienced how to make a very nice birthday party. But you've got a wonderful idea, blending all her favorite cartoon character will surprise her and her friends will gonna love it too. For balloons you can have blue's clues, dora and go diego printed character and for the cakes maybe you will having a three layer for each character. Good luck to your kid's birthday party, share your pix for it. Happy posting.

• United States
21 Oct 08
Thanks for the idea -- when in December? My baby girl is the 6th! :) Be sure to share your pics too!

• United States
20 Oct 08
I would check out Oriental Trading and see what they have for parties. Then I would choose one character depending on the packages they offer. You can usually find a Dora pinate at WAlmart. Maybe then have a blue cake and diego gift bags if you want to have them all together.

• United States
20 Oct 08
You know sunshine, I was just on their site today -- The page with dora stuff was down lol. But I found one site that was super cheap for dora stuff. I love birthday express but it could cost you (cause you want all the accessories!) I did a first birthday cupcake birthday last year with all the fixings ... yowza! Thanks for the response - great idea!

• Canada
21 Oct 08
NOw you can purchase NICK JR. party stuff which has all those characters in it! Nick junior is a combination of blues clues, dora, diego and Backyardigans . Just look for it at party stores .. or even quick check online .. Nick junior party suplies..:)

• Malaysia
21 Oct 08
I'd go go crazy with the characters. I'll have Dora as cake. Maybe have the Backpack as a pinata. Get Dora notebooks and stationery as door gift. You can have Dora's color coordinated decorations. You can also download a picture of Dora and make a coloring competition for the children with Dora doll as a present.

•
21 Oct 08
yes, in fact, i did just that for her school party. i knew that my daughter likes barney best so i got her a barney cake and a piñata. her giveaways were backpacks but i didn't want the kids to have backpacks of the same design so i got different characters but filled it up with barney stuff. her tarp (which was recycled because i wasn't able to have one printed) was dora. i think kids will like it more if they see all their favorite characters in a party. it's just us moms who like coordinated stuff. :-)