PTC sustainability through ads revenue part 1: Neobux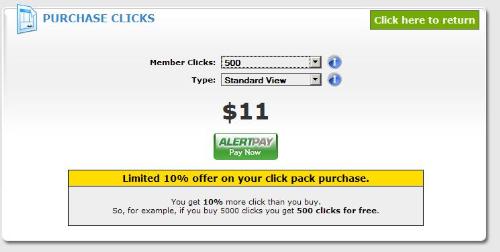 Philippines
October 20, 2008 12:55pm CST
Ok so I'm in this venture to find out how sustainable a site is by computing the amount of earnings they get per click. So my first one is going to be none other than the famous Neobux. My computation will be based on the price of standard ads per 500 clicks, which is $11 So that $11 will be divided by 500 clicks, which will yield a 0.022 per click rate. Seeing that, a standard member click is 0.01, and a referral click is .005 So deduct that by the 0.022 0.022 - 0.010 -0.005 = 0.007 So there is still a .007 earning. Multiplying that by 500 we then get 3.5, So for that rate of click they still earn $3.5 What about if 500 premium clicks on the ads? they still earn .002, because it's 1 cent per referral click right? so that goes to the referrer, it will be 0.022 - 0.020. For that they still earn a dollar. Since they don't have self-advertisements, they earn all of it. What do you think guys? Is the site sustainable enough?! I think so, since it's $3.5 per 500 click, and they have a million members. Have a nice day!
1 response

• Philippines
21 Oct 08
i had a Neobux account before, but after 6 months of not signing in, my account was permanently frozen. What should i do? Can i create a new account then?

• Philippines
21 Oct 08
Talk to the admin via the support system, that's what you usually have to do.