gmail or yahoo?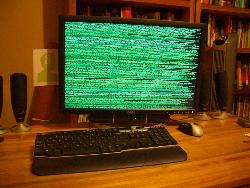 India
November 7, 2006 1:33am CST
As part of Google's mission to organize the world's information and make it universally accessible and useful, we're testing an email service called Gmail. Gmail is a free, search-based webmail service that includes more than 2,500 megabytes (2.5 gigabytes) of storage. The backbone of Gmail is a powerful Google search engine that quickly finds any message an account owner has ever sent or received. That means there's no need to file messages in order to find them again. When Gmail displays an email, it automatically shows all the replies to that email as well, so users can view a message in the context of a conversation. There are no pop-ups or untargeted banner ads in Gmail, which places relevant text ads and links to related web pages adjacent to email messages. Facts 1) Cost: Free 2) Storage: 2674.170 megabytes (and counting) 3) Superior spam protection using innovative Google technology 4) Languages: Messages can be sent and read in most languages. The Gmail interface is available in 38 languages: US and UK English, simplified and traditional Chinese, Bulgarian, Catalan, Croatian, Czech, Danish, Dutch, Estonian, Finnish, French, German, Greek, Hindi, Hungarian, Icelandic, Indonesian, Italian, Japanese, Korean, Latvian, Lithuanian, Polish, Portuguese, Romanian, Russian, Serbian, Slovak, Slovenian, Spanish, Swedish, Tagalog, Thai, Turkish, Ukrainian, and Vietnamese. 5) Access: Free automatic forwarding and POP3 access Why is Google Providing Mail Service?
7 responses

• India
22 Nov 06
As you said Gmail is best when compared to yahoo mail!!

• United States
22 Nov 06
Is gmail really still in beta? I wonder how long it's going to be by invite only. It's great, I love it. It's organized and easy to use, and I love how it bunches topics from the same address together. I use yahoo too, though, and it's not bad. It has a beta version now too, that looks like outlook express, but it goes too slow on my old computer.

• United States
22 Nov 06
i currently have a yahoo account, but need to open a gmail account.