Will it Ever Happen???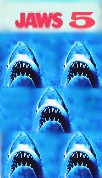 October 22, 2008 5:19pm CST
I am talking about JAWS 5. Its been almost 7 or 8 years since we seen Jaws 4. In my opinion it will never happen. Universal studios ran the franchise into the ground with Jaws the Revenge which is the 4th movie. But in recent years there were other good shark movies such as open water and deep blue sea. I also heard that there were rumors about Jaws 5 production in Universal Studios but its all unreal for now. So what do you guys think about this?? Will it ever happen???
No responses