Silly Bella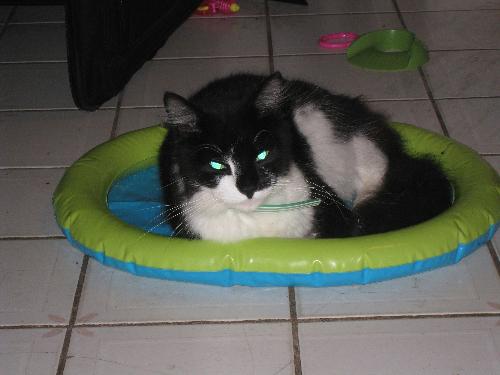 United States
October 24, 2008 3:08am CST
My cat is clearly part mule. She is so incredibly stubborn. There are two things she does that drive me insane. Bella loves sitting on the back of my desk chair watching me type. I always assume she is watching but really she is plotting to steal my seat. The second I get up she jumps down and covets the chair. It doesn't matter that I am only stepping away for a moment. She will do this over and over again. Each time I have to remove her from the seat and she climbs back up the second I stand again. The second thing she does is play a game I call "rescue me". There is an abandoned house located across the lane from us. When she is really that she is not getting enough attention she will hide out in that house. She climbs to the second story and pretends she can not get back down. We know she can for we have spotted her sneaking out only to run back in and pretend she is trapped. She will stay there and meow at us each time we enter or leave our house. Eventually my husband gets sick of hearing her cry and he caves in and "rescues her". She has repeated this pattern many times. Luckily for her she is cute so we put up with her.
2 responses

• United States
7 Nov 08
I loved your Bella story

My cat Jake will sit on the back of the office chair as well. Our chair has a really high back, and Jake will straddle the back and make himself so comfortable. He is the only cat I have ever seen straddle things. He will then jump down onto the desk and sit on the keyboard, the my husband will have to peek around him in order to get any work done. My other cat Scoots, just started stealing my seat. She never used to sit in the desk chairs. At first she started sitting in my husbands chair. One day I came out of the kitchen and went to sit down, and lo and behold there was Scoots in my chair. we hate to disturb them, so I sat on the edge while she curled up comfortably. Now, whenever I leave my chair, I will put the trash can on it, so that I know I will have a seat when I get back. Cats are so funny


• Australia
24 Oct 08
Oh she sounds so cute I see by the photo that Bella is like my cat, black and white and as I found out by another discussion on here are called tuxedo cats, , cats are so funny they have their own little funny ways..