Do you think Stock Market over????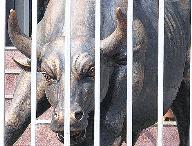 India
October 24, 2008 8:07am CST
Stock Market Biggest Collapse,I think if it continues like this market will be no where.... already investors r losed their money a lot...
1 response

• United States
24 Oct 08
The downward fall is not over yet but it's by far not the biggest collapse. This wild sell-off is in fact quite an overreaction now. People trying to safe what they can. That's what you get from having the little guy who has everything to lose participate in the stock market. If I would have the money, I would buy some stocks of stable companies right now. As it is I'm sitting tight on what I have and wait it out. The stock market will not die out as long as people want to own shares of companies. However, my hope is that the small time investors will think twice before investing their hard earned can't lose money in the stock market lottery game. Yes, there is money to be made but only if you know what you are doing. A lot of people who do it themselves unfortunately don't. Alas, we have a huge downward spiral. Had to happen. Many of us have been waiting on this to happen for a couple of years now. The stock market collapsed and we had the great depression for the same exact reason. The small guy investing, trying to win big time. The signs were there but people ignored it. But don't worry, it'll come back. And if you can get in when the Dow is between 7,500 and 8,000 go for it. Take the time research companies that'll be stable in a crisis and buy. You'll be a billionaire once it goes up again.