What is your favorite?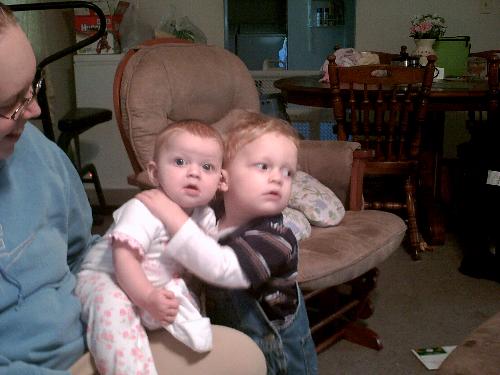 United States
October 24, 2008 11:13pm CST
What is your favorite part about being a parent? Mine would have to be when my oldest son runs up to me and gives me sloppy wet kisses (he is only 2) or when im holding my daughter feeding her a bottle and she just gazes in my eyes and wraps her hand around my finger. that is what i think my favorite about each of my children.
4 responses

• United States
25 Oct 08
My favorite part has got to be when my oldest son, he's 11, comes up to me and gives me a hug. He's autistic and almost non verbal and definitely more than a handful than most typical kids, but when he gives me hugs it makes it all worth it. When it comes to my youngest son, he's 8, my favorite part would have to be when he tells me that he loves me. It's a wonderful feeling. PS Your kids are adorable.


• Canada
25 Oct 08
My daughter is almost 16 years old and I still love to get a kiss or a hug from her. I also really love it when she writes me little notes and leaves them stuck to mirrors in the house. She will sneak into my room in the morning sometimes and leave a little sticky note on my bureau mirror before she goes to school. I almost cry sometimes at how funny the notes are and how sweet.

• Canada
25 Oct 08
By the way I love your story of your little ones as well.

•
25 Oct 08
When i got my son a drink today he said 'Thank you, your a good mum'. He says things like 'I love you mostest'. All those little things make it all worthwhile. He was 3 last month =) My boy.