Neobux, What a great referrals.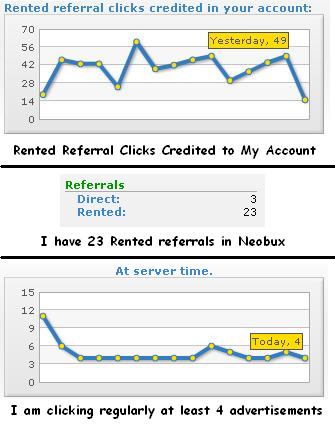 India
October 27, 2008 8:46am CST
Hi friends. Look at the image. I need your openion. I have bought 20 referrals in neobux and I already paid 40 cents for recycling them. I have to click a minimum of 4 ads, or else I won't eligible for unlimited clicks from my referrals. So, I am regulary clicking a minimum of four advertisements. Sometimes, I may find more than four ads. But most of the days, the avialable advertisements are only four. Now., I had three direct referals who is clicking 8 ads (one referral is inactive) regularly. I think if any one logged into Neobux, they used to click a minimum of four ads (More specifically, the maximum ads that are avialable at that time). Are you not clicking the all adds that are avialable when you login. The same rule must apply to rented referrals. When they login, I found some referrals are clicking two or three adds. (I made a data sheet about their clicks). I had invested $6 to bought 20 referrals. So, I must be credited a minimum of 20 cents daily i.e. each referral must click 2 ads on average basis. So if all my referrals are clicking a 40 ads daily, then I will be at break even point, i.e. no profit or no loss. I found that in most of the days, I am credited for about 40 clicks on average and not more than that. Even I had invested in Neobux, it was waste of time and no profit from them. I need your openion in: [b]Are you clicking the maximum ads that are avialable at that time of login. Are you getting any profit on referrals from them. If yes, how much. [/b] Note: I think these clicks are not from humans, they are from a program.
1 response

• India
27 Oct 08
i have not purchased any referrals but i given my referral link and i am earning minimum of 0.50$ daily. thank you for your posting.