General discussion=)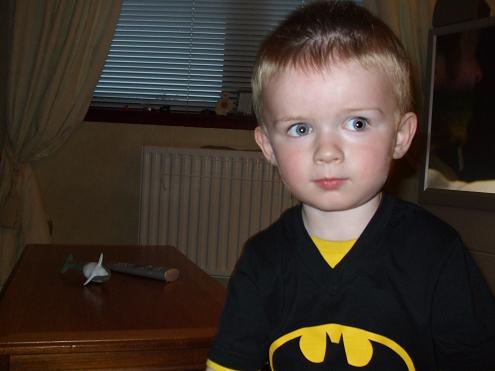 October 28, 2008 1:11pm CST
Hey every one, I'm just looking to chat to other parents out there. Not about anything specific just to get to know some people as we have moved many miles away from all my family and friends. I have a 3 year old son,Dylan and stay in Scotland. Will be good to hear from anyone=)
8 responses

• India
28 Oct 08
HI!it would be really wonderful to exchange general views about growing children and parenting them. I have 1 yr old son. There are so many things one can learn from exchaging views about kids. It would be wonderful to discuss or have a general chat about it. Hows your child adjusting? he must have started his prep school.

•
28 Oct 08
Hi =) Yeah he is growing really fast. He's not into pulling everything out anymore which is good. He'll hopefully have a little brother or sister soon as we're trying for another baby. He has adjusted well to his new surroundings, my partners family are quite close so that's always something. It's just strange not being near mine as we are all very close. He's not started pre-school yet as he was still 2 when the new session begun. He starts in January though so he'll settle in more when he meets some little friends. How's your son coming along? Is he walking yet? xx

• India
1 Nov 08
Hi! Wonderful to hear that he has adjusted well in his surroundings.Kids need to have people around them to get use to the surroundings, otherwise when they go out they can be real cranky and stick to the parents. Good to hear that soon he would have company at home a lil brother or a sister. I know how one feels not being near ones own family.Things do feel out of place.January onwards you would be a beezee mom...with him starting prep there would be so much to do. So many activities would be happening in the school and more than the kids its the parents who have to participate to get things moving on. Great going.My son is doing good. He started walking when he was 11 months old. SO baiscally now he runs around the whole house and climbs on to bed,sofas. whatever and wherever he can reach. He has grown tall so he can reach the table as well. Or else he goes on his toes to see what is lying on the table and then wants that. we have to be careful. He has his own tantrums. Hates me talking on the phone when he is playing. Kids god they are so amazing the way they learn and pick up things so fast. One has to be so careful doing or saying nehting infront of them. We never raise our voice infront of him. Our whole life revolves around him. But being the only child he has started getting very possessive about things. Does not like to share his toys with othersmall kids.So i guess its just the beginning.

• Philippines
29 Oct 08
Hi vikkiadam, I have a 5 year old boy. Wow, Scotland.. nice place. I'm from Manila Philippines. Dylan's a nice name for a boy. Mine's Francis. Are you in the city or a province? My idea of Scotland is hills and fields. I don't know, I haven't been there. Oh well, you have a nice family. Hoping the best for you.

•
29 Oct 08
Heyy! Thanks for your response. Yes some parts of Sctland are beutiful. The higlands of Scotland are mainly hills and fields. I was brought up there but it is very isolated and not many jobs in my husbands field of work hence then reason we moved to the city. What's the Philippines like to live in? I've never been. Hope to hear from you again soon.

• Philippines
30 Oct 08
The Philippines is an archipelagic country meaning it is composed of many islands (7,100+ islands). We have only two seasons, the wet season from June to February and the dry season from March to May. The people here (Filipinos) are very friendly and hospitable. Our number one export product is labor (Filipinos are scattered all over the world, mainly in the service sector). Politically, we are democratic and have economic ties mainly in the U.S. and China. Our ancestors are from the Malay, Indo and Chinese lines. Cultural influences include Spanish and American. With that, I hope I've given you a little perspective of my country. Look us up in the net if you have time. Until next time...

• United States
28 Oct 08
Hi vikkiadam~ your son is georgeous! I am a mom of 4, 3 boys and one girl. My children are older. My oldest just turned 20!!! then I have a 17 and 14 yr old boys and an 8 yr old girl. I live in Western NY, have lived here all my life.

•
28 Oct 08
Thanks Sunshine4!. Wow 4 kids, I'm hoping to have 3 or 4 eventually. We're currently trying for bub nimber 2 =) How old are your kids?


•
3 Nov 08
Lol thanks for the response. About the tantrums - do they ever get less frequent?? lol - I'm just kidding, my son's got less frequent about 2 and a half. He's not had one is ages in fact. Just tells me i've made him sad or angry - Better than a tantrum by far lol.

• United States
29 Oct 08
Hi there I am Becky. I am a stay at home mome, in Chicago. I have one child named Maverick and he is 5 yrs old. He just started full day kindergarten in August and i am hoping to get back out working outside the home. Glad to have you hear on mylot...ENJOY


• United States
29 Oct 08
Dylan is quite the cutie himself. Yes getting back to work will be great, we can use the moeny but even if we were ok without me working, i soo love the feeling of being something besides just Mommy, ya know.

•
29 Oct 08
Hiya, Thanks for your response. Your son is gorgeous! My son starts his first year of nursary in January. Same goes for me and gettin back to some soft of work lol. Hope to hear form you again soon.


• United States
28 Oct 08
Hi vikkiadam, I would love to chat w you. I am a sahm to two daughters ages 6 and 2. Even though I live in the same town and in fact only about 30 seconds from most of my family we don't see each other very often. I have different parenting views and I'm not as go with the flow as them so kinda outcast. I love it here being able to make some extra cash while making friends and getting out all the frustration that would ordinarily have no outlet. I had truely intended to message you earlier when I requested your friendship but the speech therapist was knocking for my daughter so I had to jet! But anyhoo, glad to meet you. I am jealous though, as I have wanted to go see the beautiful Scotland for quite some time. My maiden name is Scott and I've always been told that I got the Scottish temper!LOL Well, good luck here on mylot and I hope to have many conversations with you!

•
28 Oct 08
Hi, Great to hear from you! Aww don't refer to yourself as an outcast lol. I only found this sit ethe other day so i'm hoping i'll meet some poeple like yourself to chat to and keep those earnings going up lol. Yes some parts of Scotland are beutiful. I think many people forget that and go off abroad for their holidays when we have a beautiful counrty here. Lol scottish temper does sounds familier lol! Where are you from? Hope to hear form you again soon! x

• United States
28 Oct 08
Hello there! I am a mother of four and grandmother of eight plus. Did to move to Scotland from another country? I was born and raised in the same area, still live in the same small town. I'm sure you will make some new local friends, soon, but in the meantime, you will meet some friendly folks here!

•
28 Oct 08
Hi there, Thanks for your quick response. I am from a family of 5 kids. It's great to be from a big family. I really miss my family but i still see them as soon as i can. I didn't move form a different country but i moved from the top of scotland to almost the bottom of Scotland so it makes it difficult for me to visit often what with other commitments and the fact i can't drive yet lol.

• Defiance, Ohio
28 Oct 08
I understand how you feel. I moved with husband 1200 miles away from where we grew up and my family still lives. So, he can be closer to his parents. What a big mistake that has turned out to be. WE have been down here 4 years and have moved4 times now. It is hard to make friends when you are moving all the time. I have three kids. Ages 8, 10, and 17 yrs old. My youngest is my older girl. I live in the USA.

•
28 Oct 08
I know it is really difficult to meet knew people. I went along to a parent toddler group with my son but found it really hard to join in as everyon ewas already in their own little group of friends! Hopefully it will get better when my son starts nursary and he has some friends lol.