So I'm Thinkin' About Writin' A Book!!!!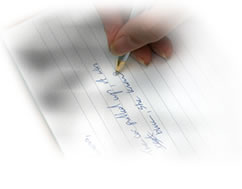 United Arab Emirates
November 7, 2006 6:47am CST
'm actually thinking of writing a book. When I write, I generally don't really have a topic, I just let my fingers travel over the keyboard and see where it goes. Is there anybody out there who may have a topic that could be a basic premise that they would like to see/read? I generally like to be humorous, but I also have a penchant for horror as well. I would love to get some feedback That way I can do some good thinkin' and stuff........
2 responses

• India
7 Nov 06
Try MYSTERY.... not in the usual lines of Agatha Christy... but something different.... It could be a murder mystery, where the criminal never get's caught, but the reader guesses who the crimal is all along. In that way you can have a sequel to your book later with the criminal getting caught, but you will also ensure that you have a large fan following.

• United Arab Emirates
7 Nov 06
in the same pattern there are lot of books...what do u think?????


• Australia
7 Nov 06
i would love to and have a amazing true story to write about but dont no where to start.. i have thought about it alot and ppl who no about me say it would sell.

• United Arab Emirates
7 Nov 06
grat ..i got a comapny....go ahead...it will be a nice work...