Xavi's continuity " not negotiable "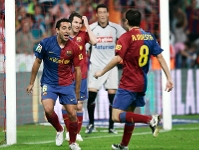 India
November 1, 2008 4:47am CST
Football Club of Barcelona has denied reports in the press that in recent hours have been claiming that the club is seeking to transfer the midfielder Xavi Hernandez this summer......... Xavi Hernandez was the best player of Euro 2008 championship which Spain eventually won.......... Xavi played a key role in helping Spain win the title.......... Both the technical secretary and the current coaching staff, and with the full support of the Board of Directors, are convinced that Xavi Hernandez is an essential plan of the team's ongoing plans......... There is such conviction on the issue that the player and the club and in discussions regarding to the extension of the contract that currently the two parties until the end of June, 2010......... Having joined FC Barcelona's youth academy over a decade ago, Xavi has enjoyed an impeccable career in the FC Barcelona first team......... Xavi's football talents are widely recognised and his implication in the club's project and values are simply not up for discussion.........
1 response