best replacement for kumble !!!!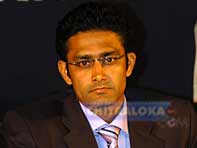 India
November 4, 2008 3:38am CST
i know it is very hard question to be answered by anyone.but anil kumble declared his retirement suddenly.as of now amit mishra has performed quite nicely against australia in the recent series but there are few options left for the place of legendary leg spinner--called jumbo.piyush chawala is also good option and he is also leg spinner and young and also bats well but only problem with him is he can't bowl leg spinners well but he does bowl googly nicely.other option is pragyan ojha--he has got his chance.he had done well.another option is murali kartik --he is experienced player but haven't got many chances but when he gets chance he performs well.who will be your choice for anil kumble??
4 responses

• New Zealand
10 Dec 08
I think the best replacement for Anil Kumble is Amith Mishra. He has already proved of what he capable of. As far as spin bowling as concerned, there is a lot of competition in Indian cricket unlike Fast bowling department. There are also guys like Murali Kartik, Piyush Chawla, Powar etc.. They tried Powar for a few series and he dint to be quite effective and they dropped him and tried Chawla for a few series. Now, Mishra as entered into the scene and he is very impressive and I think he will be the best replacement for Kumble.

• India
4 Nov 08
For me the ultimate choice will be Piyush Chawla.I dont see Mishra doing very well for a long time.Lets face it,Piyush has not been given a proper stint at the test level and I fell he is a potentially great bowler.We all remember very well the way he got a player like Pieterson out.And as for Murali Karthik, I would say no point in bringing him back in the twilight of his career.And Ojha,I dont think left arm spinners will have much of an effect against any opposition.

• India
26 Nov 08
There are many spinner bowler in indian cricke that take place of kumble . such as pragyan ojha , piyush chawala , amit mishra . but i think Amit mishra is best to take position of kumble . In first match amit mishra have taken 5 wicket . In first match 5 wicket is fantastic performance against australia .

• India
4 Nov 08
i think it has to be murali karthik and no other is the curretn best in the country.