How Was your Halloween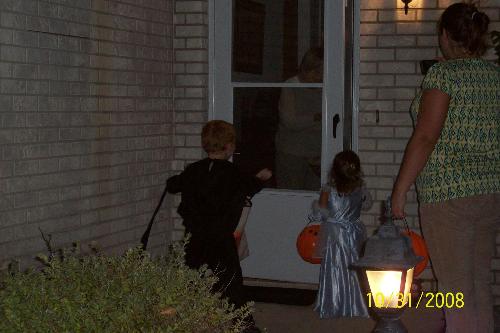 United States
November 4, 2008 2:14pm CST
My halloween was good. My son had a great time. We live in Florida and in our town a street called "Canal Street" Does a halloween parade and every business gives out candy.. A safe way for the kids to trick or treat. Only problem is they are getting stingy. They give out like one lollipop per business. We will probably not do that again next year. We also did regular trick or treating to friends and family houses. This year since we moved and I wasn't sure of the street, we put out a bowl and wrote a sign asking the kids not to be greedy, and it worked we actually had candy left.. So how was everyone elses Halloween. Were there a lot of children out in your neighborhood? Where do you Trick or Treat at?
3 responses

• United States
4 Nov 08
It was okay. I stayed home that day.. I did not take my kids out Trick or Treating.. I am glad that I didn't . That same day, an 11 or 12 year old boy was murdered as he went to the door to get candy from an house. A man shot and killed him. His father and siblings were with him when this happened. The mom was in the car. This happened right in the same city and state that I live in. Which is Sumter, South Carolina.. I am so sadden about this child's murder. It makes a parent really think..




• United States
4 Nov 08
I took my kids trick or treating at the local nursing home they get lots of candy there then they wanted to go door to door for a little while. There was not many kids out trick or treating this year here at all. We only had 7 kids the entire night.

• United States
4 Nov 08
I noticed that there wasn't that many either, although there were a lot of teenagers come 9pm.. Going to a nursing home sounds wonderful, I am sure the elderly had a wonderful time seeing all the children.. Thank you for responding.

• Canada
4 Nov 08
"canal street" sounds really cool. it's too bad that they aren't giving out much candy though for the kids. every year, my husband and i take our son out trick or treating. we usually all dress up in costumes and have so much fun. last year i wore my wedding dress and wore black makeup and went as the bride of frankenstein. this year, i'm pregnant with twins. i couldn't fit into any costumes so i just painted my face as a tiger. my son went as batman. my husband went as darth vader. even though i couldn't dress up, we had a lot of fun.

• United States
4 Nov 08
Well congrats on the twins that is awesome. Children are wonderful, and you are blessed with the chance of having 2 at one time. I am glad you had a wonderful Halloween. Thank you so much for responding.