This is my daughter Shayne!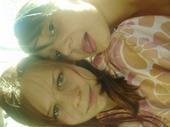 United States
November 5, 2008 1:15pm CST
She is a real trooper!Her burn is doing fine.It looks awful,but medically it is healing prperly.To everyone who helped with their support,thankyou so much.She will be going back to the doctor for a follow up tomorrow and i'll keep it clean and as comfortable as i can.She hasn't let it slow her down one bit though.She has played everyday and gone to school as well.I am so proud of her.So this is dedicated to her...I LOVE YOU SHAYNE MARIE!!!Shayne is on the bottom,sorry.
1 response