Are you nails painted? What Color?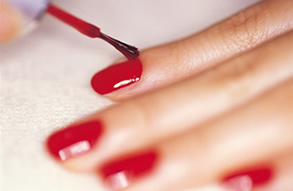 Philippines
November 6, 2008 10:42am CST
are you fond of painting your nails??? well they do look attractive and it gives life your nails as well.. i personally is a fan of nail paints.. the only problem is i don't really have those nice set of nails... huhuhu sad to say =( i just envy those ladies who does have attractive hands and nails... anywayz, do you paint your nails too??? what color do you usually use???
5 responses


•
6 Nov 08
I'm also totally into nail paints. I too have nails that are not nice. But I must say that I take care alot about my nails and I simply love them. Most of the times I'm with nail polish but I also left my nails unpolised once of twice in the week just for the nails health. OTherwise I'm always on the nail polish and right now I'm sticking with the coffee coloured nail polish and I really like it.

• Philippines
6 Nov 08
I prefer to have nails with no paint/color. I like it this way - simple and clean. I have tried coloring my nails but I immediately removed it. My mom and my sister loved coloring their nails. It didn't bother me though.

If one day, I decided to color my nails, I would like to have it in red color

...

• Canada
6 Nov 08
oh~ I love nail polishes!! I put color whenever I can. I believe that not only it is fun but it also protects my nails from being damaged. :P I have plenty of colors. Last time I had them violet. Now, ihave my nails in a light pink colour. When I feel funky, I would polish each nail with different colours. I think it's cute. If I feel more fancy, I would pick up two colours and paint half of a nail with 1 colour and the other half nail with the last colour. And nah.. you don't need attractive hands or nails to do this. *_*

• Canada
6 Nov 08
i hate nail polish on my fingers and dont do that very often unless i am going somewhere like a wedding or whatnot (i hate the way my nails look!) BUT i ALWAYS have nail polish on my toes, no matter what the season is here in canada. i like to do it just for me and always have a bright colour on them.