Do you watch sitcoms?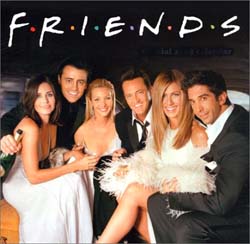 Slovak Republic
November 7, 2008 6:11am CST
There is so many sitcoms running in the TV daily. Among my favorite surely belong Friends, Frasier, According to Jim or That 70's Show. I have seen many episodes more then once and still enjoy to watch them. For example I have seen some Friends' episodes 8-10 times (of course in long time period, I am not "TV fanatic

). So what about you my friends do you watch sitcoms? What do you think about them? Which are your favorite? Happy myLotting

4 responses

• United States
7 Nov 08
I watch Friends everyday while I am fixing supper. I have seen all of the episodes but they are still funny the second time around. I also really like the show Two and A Half Men the first time I watched it my husband said change the channel then he decided he liked it!

•
7 Nov 08
i used to wacth friends before it ended but that is about it really. i am from england and we have long running soap operas that we watch. you may have them where you come from too. the ones i watch are hollyoaks and eastenders, these are my favourites. have you seen any of these shows. happy mylotting

• Slovak Republic
7 Nov 08
No these shows not run in my country yet, maybe in the future. We have our own soap operas like this with many many episodes. I do not watch most of them but get used to watch one. It is about young couples living in one prefab. And about their daily life.

• United States
7 Nov 08
I still catch Friends occasionally, not Fraiser I only like the brother on that show, That 70's Show I watch didn't catch it the first time around, still like The Seinfeld Show and Two and a Half Men. Regards

• Philippines
9 Nov 08
Only when i get the chance... i can never remember which day and time these sitcoms are being aired on tv... since my tv time is quite sporadic... so i just watch whatever it is that i find interesting... but when i chance upon Friends... i would always watch it... even the first episode... i can never get tired of the jokes and punch lines...