Has anyone started decorating for the holidays?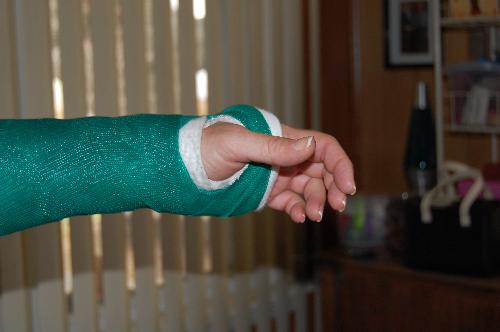 United States
November 7, 2008 9:19am CST
well, i have, thanks to my orthopedic doctor! lol. the latest treatment for my wrist injury, a full arm cast, from above the elbow down to my fingers. as you can see in the picture, it's a nice chritmas green.lol and it will be on til jan.
6 responses


• United States
8 Nov 08
i do scrapbooking, and i told my mom the other day that if i get bored i can get my stamps and ink out and decorate it lol


• United States
7 Nov 08
it's some kind of wrap material, he got it wet and wrapped it, then it sets hardened when it dried, which only took a couple of minutes. he actually picked the color for me....said it was because i work for the forestry lol

• United States
9 Nov 08
What a lovely color! And a fine way to celebrate the holidays! What did you do? Break your arm? Hope it heals fast though....and I have started going through my decorations with the intent of giving some to good will or salvation army and share some of the too many I have! Now all you have to do with your cast is hang some holly off the end and you will be complete~!

• United States
9 Nov 08
i'll have to keep the holly in mind lol, i injured it back in april on the job, and mri and mra isn't showing whatever the problem is, so the doc is trying complete immobilization, if this does't get it better than the next step is surgery. i'm thinking that if i start now.........i'll have the house decorated by dec. lol

•
7 Nov 08
Oh my - that is just horrible!!! I had a removable split on my wrist for a week over the summer and that was awful - I couldn't do anything!!! How are you coping? Hope you have loads of help. As for the early decorating - no, haven't done a thing yet and don't intend to do much really - we are going away for the Christmas week so not much point in doing loads of decorations here - although will probably put up the tree closer to the time... Decemeber some time I guess. Violetdreams

• United States
7 Nov 08
luckily it's my left wrist and i'm right handed. i started out with a removable splint (in mid-april), have had 3 different types of those, now full cast. i'm getting really good at doing things one-handed,lol. and my s/o is great help, he even put my hair up in a ponytail for me. i'll be gone christmas week too, but i'll have all the decorations up by weekend after thanksgiving, since my s/o won't be able to go with me, and his daughter will be here for christmas.

• Philippines
7 Nov 08
not yet, and my husband always reminding me everyday to start decorating the house but because i have many things to do i told him to work it on weekends for i want him to help me decorate the house, just for a change because i have remember the day me and my husband are married i never seen him helping me to decorate the house, now i want for a change and i want him to help me to give an idea to our new look home.

• United States
7 Nov 08
that's a good idea, for him to help. normally my oldest daughter is here for thanksgiving and she helps me. but she won't be coming up this year, so probably won't do as much outside. my s/o always goes with me to pick out a tree, then i do all the decorating, but this year i'm sure he'll help me more because of the cast.