How Much Do You Pay for Eggs?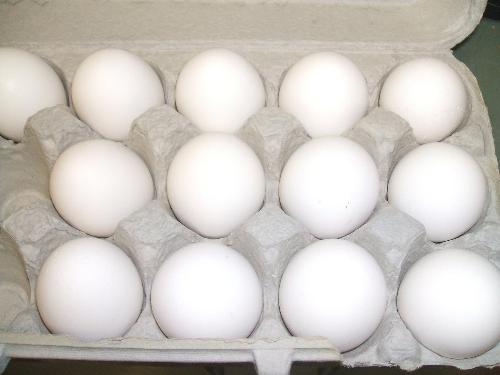 United States
November 7, 2008 1:03pm CST
I am curious as to how much everyone pays for a dozen eggs. In addition to the price, where do you live?I buy my eggs from a store that is known as a dollar food store. They are drop shipped from a local farmer. They use to sell eggs for $1, but now it is a $1.50. I live in New York state.
6 responses

• United States
7 Nov 08
I live in North Dakota and I paid $1.50 a dozen for eggs this week. We previously had chickens and our own eggs, but it was costing more to feed the chickens than what I could buy eggs for at the store. They were much fresher than store eggs - a friend of mine that works in a HyVee food store says that the eggs that come into the store are already over a month old.

• United States
8 Nov 08
Wow, I never thought about the date of eggs at the store. If they are a month old, do they still have good expiration dates. I think it was neat that you had your own chickens, but it sticks that feed increased the cost of your eggs.


• United States
7 Nov 08
I have paid $1.25 for the last 3 or 4 weeks. I have 2 kids that work for one of the better grocery stores down here in South Carolina and they have been picking up the eggs from there because They can just pick them up after work. I haven't checked any place else lately. They also have milk for %3.39 a gallon.

• United States
8 Nov 08
That is a pretty good price. I think it is very smart to have your child pick them up after work. Although gas prices are starting to go down a lot, it still helps to save money on gas. Thanks for your response.

• Australia
8 Nov 08
Well it depends on the kind of eggs. In Australia if they are factory farmed in cages then they are quite cheap but then there are barn laid eggs where the chickens are able to roam freely inside a barn so the can scratch etc and then there are the best which are free range where chickens can wander outside and eat grass and insects. I have my own free range chickens, 3 of them, so I only pay the price of the grain I feed them for protein and that means they cost me less than a dollar a dozen but in the shops these eggs are about $5 a dozen so I love them. Our cage eggs are only about $1.50 a dozen but I will not eat them as I do not like the awful lives the birds have. When my chickens go off lay I buy the barn eggs which are about $3 a dozen.

• United States
8 Nov 08
Thank you for your detailed response. It was nice to see the different costs of eggs.

• United States
8 Nov 08
I live in Indiana and I have paid at least $1.99 for the past year and as much as $2.25 for a dozen and the weird thing about it is that the egg place they come from is right here. I used to work there and they supply most of the east of the mississippi area. I wish I could get eggs for $1.00 or $1.50 that is cheap , I have not paid that less for years.

• United States
8 Nov 08
Thank you for your response. I buy eggs from a store that use to sell food for only a dollar. They raised their prices a lot. Most of their food is close to being expired that comes from other stores. The eggs are shipped in from a nearby farm though. They usually don't expire for a month or more. It is $1.50 for a dozen of eggs at this store, but it is at least $1.89 (when on sale) at the supermarkets.


• United States
8 Nov 08
Thank you for your response. It is weird about the prices going up and down. We were paying $1 and then they raised it to $1.50 and then they said the prices went down a bit, so they kept the price at $1.50, but were selling a dozen and half eggs. But, this week the store that I shopped at went back to a dozen eggs for $1.50. You would think that with gas prices lowering, they wouldn't have increased again, but they did.

• Australia
8 Nov 08
Well, our eggs cost us a $15 bag of chook feed every 6 weeks. But in the supermarket they run around $4 a dozen. Our local butcher occasionally has local free range for $2.50. Lash