Why, is all the print so small? On everything, you have to have a magnifying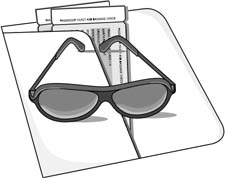 United States
November 8, 2008 8:41pm CST

glass, or put on bifocals to read these tiny print lables and itty bitty print? Cmon, some of us older people have a hard time reading medicine bottles and food labels, couldnt they at least make it darker and help us out here? Cmon darken the ink or something.....what do you say about this?
5 responses

• United States
12 Nov 08
LOL I think no matter what they did to fix it, someone would complain about it. I too hate small print. Even sometimes, with my bifocals on, I still need a magnifying glass to read things. That is sad. I remember when my father used to ask me to read things for him because he couldn't read them. Now I do the same things with my sons.


• United States
13 Nov 08

It would take everyone calling and complaining at the same time to get them to change anything. Change cost money and the last thing they want now is to spend money!

• United States
12 Nov 08
You know what, I have to wonder the same thing. Although I have more problems with seeing far away, there are also a lot of things that are unbelievably small and hard for the human eye to see, at least these human eyes. On the other hand, the tiny print that I'm lucky enough to be able to read leaves me with a headache afterward. I guess a lot of us are suppose to just carry a magnifying glass around with us.

• United States
12 Nov 08

Your right, that eye strain does cause headaches and I have had alot of those too. lol I think all the tiny print is designed for those with 20/20 vision lol


• United States
9 Nov 08
I agree with you. It is next to impossible to read so many things. One thing that is horrible is our telephone books, print is dark but oh so tiny. Our newspaper also has small print. I just bring our newspaper up online if I want to see anything there.

• United States
9 Nov 08

Oh, I cant stand trying to look things up...lol not in the phone book and if they want more people to use them...they need to fix them....its ridiculous...and why does everyone always hand me the book? Everytime,,,ugh lol

• United States
9 Nov 08
My husband had a situation recently where he mixed his insulin with a different type of injectable diabetes medication. He caught it after about 2 days of feeling really badly. I agree that the print should be much larger and maybe there could be some sort of universal code for different types of medications. It seems that pre-printed vials (like my husbands insulin) could very easily get mixed up in the manufacturing and shipping process as well!

• United States
9 Nov 08

We just cannot read this light ink with it being so small. I really hate it because many people are trying to see the dosages and its hard.There have been many times even with biofocals that I have to go get the magnifyng glass anyway. This is somethiing they really need to change. Bold print is not ussed often enoug on directions either....ugh