Mountain trivia - What do you know about mountains?

United States
November 9, 2008 5:19pm CST
There are 14 mountains on Earth having an elevation of 8,000 meters or more above sea level. They are known as the eight-thousanders: http://en.wikipedia.org/wiki/Eight-thousander Altitudes of 7,000-8,000 meters (23,000-26,200 feet) and above are known as the "death zone;" up there is about 1/3 as much oxygen as at sea level. Everest is the highest of the eight-thousanders, with bedrock rising as high as 8,844.43 meters (29,017.16 feet) above sea level. While distance from sea level is the most recognized method of measuring a mountain, it is not the only method. If you measure the height of a mountain from base to summit, you'll find that Mauna Kea, a volcanic island in Hawaii, rises over 10,200 meters (33,464.57 feet) above the ocean floor. Also, the Earth is not a perfect sphere. 'The summit of Chimborazo in Ecuador is 2,168 m (7,113 ft) farther from the Earth's centre (6,384.4 km or 3,967.1 mi) than that of Everest (6,382.3 km or 3,965.8 mi), because the Earth bulges at the Equator. However, Chimborazo attains a height of only 6,267 m (20,561 ft) above sea level, and by this criterion it is not even the highest peak of the Andes.' (Wikipedia, the free encyclopedia) What really impresses me is vertical relief above local terrain. From the ground up, Alaska's Mt. McKinley is a spectacular sight, with vertical gains ranging from 5,300-5,900 m (17,300-19,300 ft). Nanga Parbat's Rupal Face is considered the highest mountain face in the world, rising 4,600 m (15,000 ft) above its base. Nanga Parbat's Rakhiot Flank rises even higher: up to 7,000 m (22,965.88 feet) from the Indus River valley, but becomes less impressive due to its low slope; this elevation is gained over 27 km (16.78 mi). To my knowledge, the world's most dangerous mountains to climb are currently Annapurna, Kanchenjunga, and K2, respectively. Nanga Parbat was considered the deadliest of all mountains through the first half of the twentieth century, and known as the "Killer Mountain." But a relatively easy ascent has since been standardized via the Kinshofer route, a buttress on the Diamir face first ascended by Toni Kinshofer in 1962. The death rate on Annapurna stands today at approximately 40%. What can you tell us about mountains?
2 responses

• China
11 Nov 08
Hello santuccie. I thank you so much for the information about mountains, highest mountains in thh world. I have learned a lot from your discussion. But I don't think that I will try to climb a high mountain like that for the lack of oxygen, low mountains only. lol. Thank you for the informative discussion.

• United States
18 Nov 08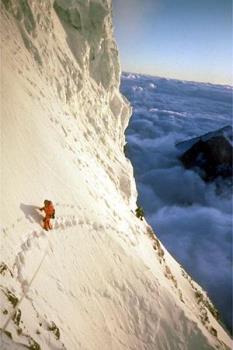 You're welcome. And I'm with you; some of those mountains are pretty intimidating. I've pasted for you a picture of Ed Viesturs on K2's bottleneck. Ed Viesturs is the only American so far who has climbed all 14 of the eight-thousanders, the 12th person overall, and the 6th to do it without bottled oxygen. See the clouds below him? Imagine falling from up there...YIKES!!!

• China
19 Nov 08
Thank you so much for the picture. I looked at it and I feel so scared and have to admire him for his bravery. He is a real hero in my eye.

• India
11 Nov 08
Great to see you back with a great thing! I am glad that you shared this. Had little idea whatsoever. Even though I was born in The mountains in chilling November night, I do not really know much of it. All I remember is snow capped mountains, with the Nagas with least of clothes and some Naga child wwhom I had befriended. Happy memories....


• United States
18 Nov 08
Good to see you, mimpi1911! The mountains take my breath away. I admire those who dare climb them; I'll keep my two feet on the ground! :)