traditional wedding or not?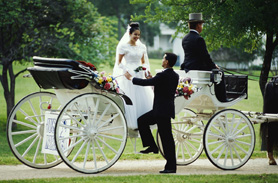 Philippines
November 11, 2008 2:37pm CST
What is your dream wedding? Is it traditional like our folks before or do something unique like as Roller Coaster wedding, Under water wedding, Nude wedding etc etc? I'm dreaming of
Garden Wedding
surrounded by peach color roses, sometimes I think of wedding dress made of roses too from head to foot! Yayyyyy

5 responses

• India
15 Nov 08
I dreamt like having out traditional wedding.... it was really interesting to have that dream..... i was standing in my traditional wedding dress and my girl is also in the traditional wedding dress that every girl use to wear in their wedding..... and looks nice......

• India
16 Nov 08
Why, in your area, men will have no dream about their wedding ah..??? and one more thing, I am not arunmails, I am arun..... and "mails" indicates "Arun is mailing". Got it.......???????


• Philippines
15 Nov 08
I would go for traditional, white wedding gown and a small chapel where my closest relative and friends will be there.. I just got married last August and I just had my dream wedding from the chapel to the intimate wedding ceremony...lucky me


•
11 Nov 08
Hi anjielyn, i was married 28 years ago and my mother made my wedding dress, it was a tradional white dress with veil and frills, it was beautiful. I really don't think much of all these morden weddings. Tamara

• Philippines
10 Jun 09
At first my fiance and I wanted a beach wedding so we could wear flipflops. Not very formal but we think it's a bit expensive especially I wanted to have lots of pink and white flowers as a decoration. Now we're planning to have the ceremony held in a small chapel, of course still decorated with white nad pink flowers. The reception, were planning it to be held in a garden or near the beach to fulfill our original dream.

• Philippines
24 Nov 08
I prefer a modern wedding, but still in the church, because the Catholic church is now prohibiting a wedding conducted outside the church. I want a wedding reception near the beach or in a mountain resort at sunset or sunrise. I think it's more dramatic and spectacular compared to a hotel reception which is a little boring. I want a modern wedding ceremony with a little touch of tradition, as much as possible I want to eliminate the throwing of bouquet and garter and replaced it with a unique style. I want my wedding to be a wonderful celebration and not the serious thing where parents and relatives cry. Gosh!I dreaded the crying session in wedding ceremony, it's kinda silly to see people cry just because you are married.