New scrap book friends ...


United States
November 12, 2008 8:29am CST
Well I am excited to say with all my chaotic crap that's been going on a decision has finally been made and we are going back to FL. My husband and daughter are already there and I will be down next month. I am really excited because I will be joining my aunts scrap book fun! She has a friend who does creative memories and although I don't usually like the routine pages they do I will have people to scrap book with! They get together once a month and go on scrap book weekends too! Do you have people to scrap with? How often do you get together? Do you ever go on scrap book retreats?
7 responses

• United States
12 Nov 08
That must be hard to be away from your family. I bet you are excited to be able to get together and scrapbook with your aunt and her group. My girl friends and I will go to crops together. I also joined a local meetup group that has regular get togethers and card swaps. That makes it really nice. I once went to one of the crops that went on with a scrapbooking convention here, but it was just too much. Too loud and way too many people. I would like to go to a small one with friends. I would even love to do a scrapbooking cruise. Although I wouldn't know if I should crop or take pictures!


• United States
12 Nov 08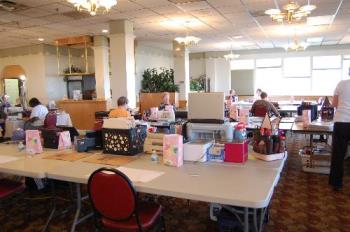 as you know i recently went to a weekend retreat, and it was great fun. i'm glad my doctor appointment was after i got back home as he put a full cast on my left hand/arm. the only one i have to scrapbook with is my oldest daughter, she lives 350 miles away, we usually get together 3-4 times a year, and spend days scrapbooking. when we can't scrapbook together, we take pics of our latest layouts and email them to each other. we actually had a lady that at flown in from florida at this last retreat. the next one in virginia beach will be at the end of feb.

• United States
12 Nov 08
I thought about that when I seen your discussion on your hand arm! As unlucky as that is you were lucky it was after the retreat!! You are like me - really no one to scrap with. I scrap with a friend every once in a while but she slacks on getting pitures printed so she never has any thing to scrap!!

• Canada
12 Nov 08
i primarily scrap by myself but trade stories and sometimes tools and supplies with friends and family members. it is nice to see what others are making and what supplies and they have and are using and plus, what they are using them for. i really like to be really creative.

• United States
17 Nov 08
I have a question? Where does one start? I'm interested in learning but don't know where to start. I think scapbooks would make great Christmas, birthday etc presents for his Grandparents. Do you have any websites I can visit for beginners?

• United States
17 Nov 08
http://www.mycraftbook.com/Scrapbooking.asp http://www.squidoo.com/beginnerscrapbooking The top site is very nice! I started by going to walmart and getting a scrapbook set. That had every thing in it. The scrapbook, paper, stickers, tags and more. It was all coordinated to go with each other. Basically all you do it add the pictures. JoAnn Fabrics, Michaels, Target all has the kit too. Wal Mart is usually the cheapest innless you can find clearance. Something like this is perfect for a beginner http://www.walmart.com/catalog/product.do?product_id=9240076 Good Luck!!!

• United States
17 Nov 08
Thanks for all that info ebsharer. I'm going to take a good look at those sites and see what I can find at the stores you mentioned. Appreciate the help.


• Canada
12 Nov 08
I occasionally scrapbook. I've done creative memories - love their stickers and papers. I do alot of it on my own. (Lately been doing it on the computer and having it printed as a book from blurb.com) I also take it over to my moms and scrapbook with her and my sisters. Never did a retreat but have done some classes.

• United States
13 Nov 08
Creative memories has great stickers and papers but if you look at there example books every page is the same. I don't like that. Each of my pages are different with different size pictures, some times 3 and 4 different pages glued together. With the examples they give you it just seems so routine!

• Canada
13 Nov 08
I like looking at scrapbooking magazines and a couple books my mom has for ideas rather than at creative memories layouts. The lady who runs creative memories classes used to get mad at me because i didnt want to lay my photos out exactly like everyone else did in the class...i liked to change where things sat..the angles and things.

• United States
14 Nov 08
You should see my scrapbook I don't think ANY 2 pages are alike! My mom was looking at my scrap book right after looking at my aunts and mom commented that I am "very creative". My aunt could be if she would get out of the creaive memories rut! I know it sounds like I am bashing creative memories really I'm not I just don't like the layout ideas they have!


• United States
17 Nov 08
I would love to go on a scrapbook retreat, sounds like heaven to me. But I don't think that will really happen right now. I'm not very good at scrapbooking, I spend too much time thinking about it and not enough time doing it. Also I think and want my scrapbook page to be perfect, I know I should think that. It's more important to get the book done instead of have boxes of photos piling up. But I want to have at least 4 hours to do it or I won't even start, which is also unrealistic at this particular moment in my life. I just keep making excuses, I need to just sit down and get started.

• Malta
2 Dec 08
I have not made up my mind what scrap book fun is all about. Perhaps can you explain in detail what is all about? I hope that you enjoy your aunt and friends in Florida. © ronaldinu 2008